( Daily Caller ) Just days after being singled out on Twitter by President Trump, CNN centered its coverage around a pair of tweets from the president on Thursday morning, presenting Trump's personal attacks on MSNBC hosts Mika Brzezinski and Joe Scarborough as the driving issue of the day.
Trump referred to the two hosts as "Low I.Q. Crazy Mika" and "Psycho Joe," and claimed he refused to hang out with Brzezinski on multiple occasions shortly before New Years Eve because, "she was bleeding badly from a face-lift." Trump's tweets followed a "Morning Joe" segment where Brzezinski and Scarborough mocked the size of Trump's hands. (RELATED: CNN's Month-Long Nightmare)
Trump sent out the two tweets out shortly before 9 a.m. For the rest of the day, those tweets dominated CNN's news coverage.
It didn't take CNN long to make Trump's tweets the lead of its website. The site's banner read: "The President of the US tweeted this," and featured a picture of Trump's tweet as the featured image.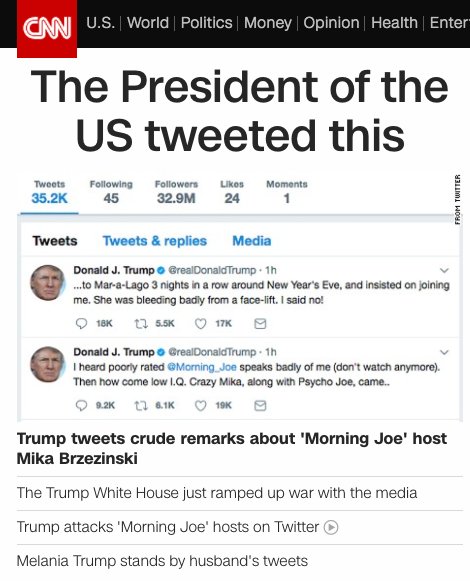 CNN's online coverage Thursday afternoon led with Republican criticisms of Trump's tweets, along with Brian Stelter's original story on the tweets describing them as a "shocking assault," editor-at-large Chris Cillizza's analysis of the tweets — which he described as "bullying" that "crosses a big line," a Cillizza podcast on Trump's tweets, a story about first lady Melania Trump's spokesperson's reaction to the tweets and a video of a CNN panel debating Trump's tweets.
CNN, which Trump labeled "fake news" just two days prior, cycled fresh articles about Trump's tweets onto its front page throughout the afternoon and evening, including a Jake Tapper monologue about Trump's penchant for tweeting about the media, a story about J.K. Rowling taking a shot at Trump over Twitter, an explainer on why Trump hasn't gotten kicked off Twitter, a recap of disparaging remarks Trump has previously made about women (including on Twitter), another Chris Cillizza analysis on Trump's tweets (this time on deputy press secretary Sarah Huckabee Sanders' defense of them) and another opinion article that said Trump's tweets captured "the essence of sexism." All of those stories were at one point prominently featured, either as CNN's lead story or just below it, during CNN's marathon coverage of the two tweets.
Read more: Stuck On Don This Is What CNN Focused On For 13 Hours Straight