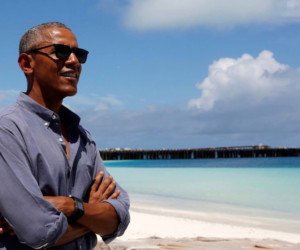 UBUD, Indonesia (AFP) – Barack Obama has kicked off a 10-day family holiday in Indonesia that will take in Bali and Jakarta, the city where he spent part of his childhood, officials said on Saturday (June 24).
The casually dressed former president arrived in the resort island of Bali with his wife Michelle and their two daughters, a local military commander said.
"They arrived late last night and went straight to the hotel in Ubud," a local military commander, I Gede Widiyana, told AFP.
Obama spent four years until 1970 as a boy in the then sleepy capital of Indonesia after his divorced mother married an Indonesian.
Many Indonesians felt a strong bond with Obama because of his exposure to Indonesia and its culture, even making him a 2m bronze statue that was placed in his former school.
The statue of "Little Barry" – as Obama was known to his Indonesian school friends – depicts the boy Obama dressed in shorts and a T-shirt with a butterfly perched on his hand.
Indonesia's foreign ministry said Obama's visit to holiday in Indonesia came after several invitations from President Joko Widodo.
While in the capital, Obama will meet the president on June 30 and give a speech at an Indonesian diaspora convention the next day.