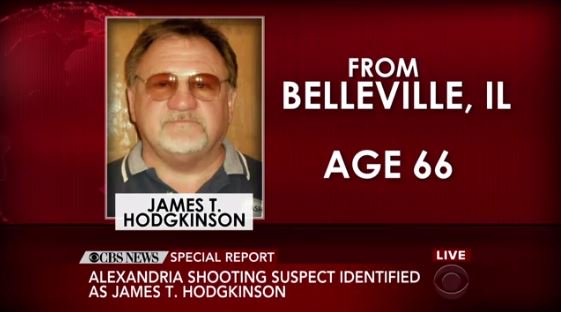 6 THINGS YOU NEED TO KNOW ABOUT SHOOTER JAMES HODGKINSON:
Hodgkinson was a member of a number of anti-Republican groups on Facebook, including one called "Terminate the Republican Party."
▪  "The Road to Hell is Paved with Republicans"
▪  "Donald Trump is not my President"
▪  "President Bernie Sanders"
▪  "Illinois Berners United to Resist Trump"
▪  "Boycott the Republican Party"
▪  "Expose Republican Fraud"
▪  "Terminate the Republican Party"
2. He hated Donald Trump, but campaigned for Bernie Sanders
According to The Washington Post, Hodgkinson campaigned for Bernie Sanders in Iowa during the last Presidential election.
Two days ago, Hodgkinson posted an angry tweet about President Donald Trump on Facebook.
"I Want to Say Mr. President, for being an ass hole you are Truly the Biggest Ass Hole We Have Ever Had in the Oval Office," he wrote on Facebook.
3. He was a facebook friend of former Democrat Congressman William Enyart.
Former Congressman William Enyart, a Democrat from Belleville who was defeated by current Rep. Mike Bost, Enyart is friends with Hodgkinson on Facebook, but Enyart said when he was is public life, he had a generally policy of "friending everybody" and said he's never heard of Hodgkinson.
"I don't have a clue who this guy is," Enyart said.
Enyart was defeated by Bost, a Republican from Murphysboro, in 2014.
4. He used to own home inspection business but did not renew his license.
James Hodgkinson, 66, owns a home-inspection business. Hodgkinson was a licensed home inspector from 1994 to 1997, when his license expired, according to records from the Illinois Department of Financial and Professional Regulation. He also held a license from 2003 to 2016, but it was not renewed.
5. Hodgkinson was banned from St. Clair County Intergovermental Grants Department office a few years ago
In 2012, Hodgkinson took part in a protest outside the downtown Belleville post office. He said he was part of a "99%" team drawing attention to the amount of money and political power the top 1 percent of Americans acquired.
Terry Beach, the executive director of the St. Clair County Intergovermental Grants Department said on Twitter that Hodgkinson was banned from the grants department office a few years ago. However, Hodgkinson recently returned to the office, Beach said. It wasn't immediately clear why Hodgkinson was banned from the office.
Terry Beach said Hodgkinson worked as a subcontractor in the department's housing rehabilitation and weatherization program.
However he had been banned from the department, Beach said.
Beach said he didn't remember him well.
6. He had arrest records in the past.
Hodgkinson has a varied arrest record in St. Clair County, for offenses such as failing to obtain electrical permits, damaging a motor vehicle, resisting a peace officer, eluding police, criminal damage to property, driving under the influence and assorted traffic offenses.
SOURCE: Belleville suspect killed in congressional shootout belonged to anti-GOP groups