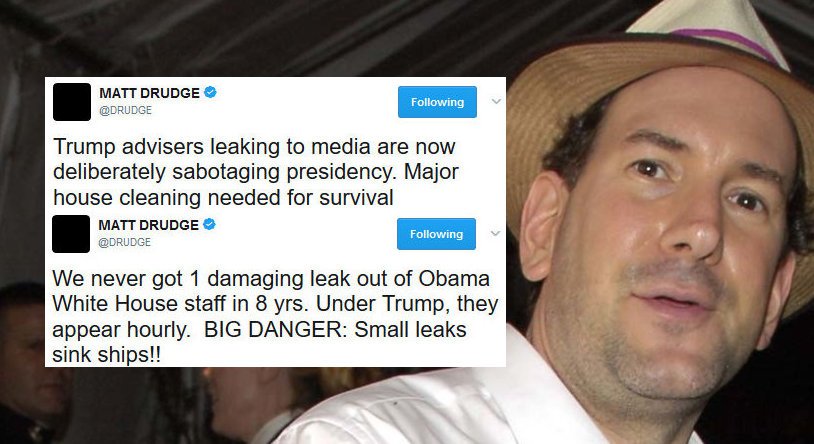 Matt Drudge warns Trump: "BIG DANGER: Small leaks sink ships!!"
Matt Drudge tweeted last week:
"We never got 1 damaging leak out of Obama White House staff in 8 yrs. Under Trump, they appear hourly. BIG DANGER: Small leaks sink ships!!" conservative news aggregator Matt Drudge tweeted last week.
Drudge then tweeted a link to an Axios story full of palace intrigue about the firing of FBI Director James Comey and commented, "Trump advisers leaking to media are now deliberately sabotaging presidency. Major house cleaning needed for survival."
According to a report in the Associated Press, Trump's decision to keep his staff in the dark regarding his firing of then-FBI director James Comey was motivated by his concern that staffers would leak the news to the press.
And shortly after Comey's firing, The Washington Post quoted an extraordinary thirty anonymous sources "at the White House, the Justice Department, the FBI and on Capitol Hill, as well as Trump confidants and other senior Republicans," for a story titled, "Inside Trump's anger and impatience — and his sudden decision to fire Comey." The leakers portrayed neither the president nor his decision to fire Comey in a positive light.