( Fox News ) The long road home for the thousands of Iraqi Christians displaced by ISIS is set to begin Monday with the construction of 100 houses– the first of an estimated 13,000 houses to be built in a venture that will cost about $250 million.
Ethnic and religious minority groups like the Assyrian Christians were driven from their ancestral homelands across the Nineveh Plain, a vast region in Northern Iraq, when the Islamic State attempted to establish their caliphate.
But now that ISIS forces have mostly been driven out of the region, the Assyrians are looking to return and rebuild. The work is finally beginning due to an organization called  the Nineveh Reconstruction Committee (NRC), which has received funding from Aid to the Church in Need (ACN), a pastoral aid organization associated with the Catholic Church.
The NRC will break ground on Monday in the Assyrian towns of Bartella, Karamless and Qaraqosh, when they will either repair or completely rebuild the first 100 homes.
Completion of these homes is expected to be completed by summer's end.
"One hundred is not a large number compared to the many thousands that will eventually be worked on, but it's a very significant number," Joop Koopman with Aid to the Church in Need told Fox News. "It's a concrete sign that this community is on its way to being rebuilt."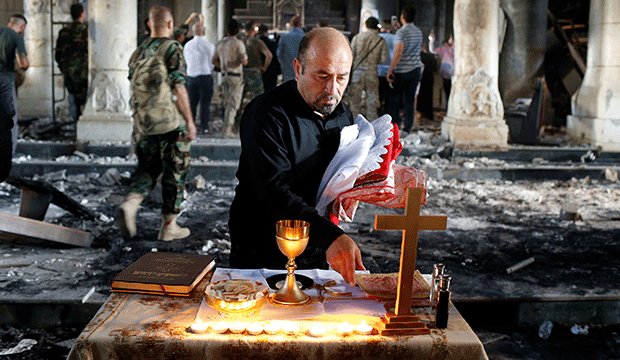 The NRC was set up earlier this year to assist in the planning and supervision of the reconstruction program, which is expected to cost upwards of $250 million. According to a survey conducted by ACN this past winter, about 40 percent of Christian families—roughly 12,000 men, women, and children who fled ISIS when they captured the region—have expressed interest in returning to their homes in the Nineveh Plain.
"For a long time people have been saying that Iraqi Christians don't want to return home." Robert Nicholson, Executive Director of The Philos Project, a humanitarian aid organization focused on promoting a pluralist Middle East, told Fox News. "Having spoken to many of them, both inside Iraq and around the world, I can tell you that's absolutely untrue. Many of them would love to come back, and some of them actually are."
Nicholson added that protection for the Assyrians as they return will be key.
Read more: Iraqi Christian villages to begin rebuilding process with the first 100 homes
Christmas in Iraq – New Delhi Mall  2016
Christianity in Iraq
From Wikipedia, the free encyclopedia
The Christians of Iraq are considered to be one of the oldest continuous Christian communities in the world. The vast majority are indigenous Eastern Aramaic-speaking ethnic Assyrians. There is also a small community of Armenians and populations of Kurdish, Arab and Turkmen Christians. While older sources mention also Christian Kurds, most present-day Christians are ethnically different from Kurds and they identify themselves as being separate peoples, of different origins and with distinct histories of their own.[1]
In Iraq, Christians numbered about 1,500,000 in 2003, representing just over 6% of the population. Since then, it has been estimated that the number of Christians in Iraq have dropped to as low as 450,000 by 2013. However, due to a lack of an official census, the number is difficult to estimate and could be as high as 1.2 million. [2] The most widely followed denomination among Iraq Christians is the Chaldean Catholic Church.
Christians live primarily in Baghdad, Basra, Arbil and Kirkuk and in Assyrian towns and regions such as the Nineveh Plains in the north.[3] Iraqi Christians live primarily in the Kurdistan Region; and in regions bordering it in northeastern Syria, northwestern Iran and southeastern Turkey, an area roughly corresponding to ancient Assyria.
Christians in Iraq are not allowed to proselytise, especially to Muslims. Muslims who change their faith to Christianity, are subject to societal and official pressure, which may lead to the death penalty. However, there have been cases in which Muslims have secretly adopted the Christian faith, becoming practicing Christians, but legally Muslims; thus, the statistics of Iraqi Christians does not include Muslim converts to Christianity. In Iraqi Kurdistan, Christians are allowed to proselytize.