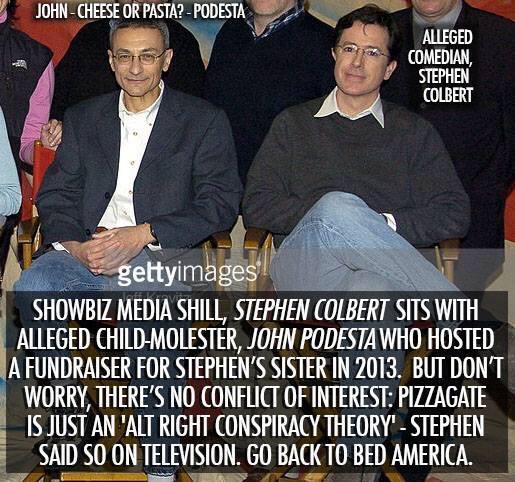 Left-wing comedian Stephen Colbert made headlines today for making anti-gay joke about President Trump and Vladimir Putin :  "The Only thing Trump's 'mouth is good for is being Putin's c**k holster'"
Flashback! In 2013, pizzagate suspects John Podesta and his brother Tony host fundraising campaign for Stephen Colbert's sister Elizabeth Colbert Busch, who was running for Congress in a South Carolina special election during that time.
Wikileaks also exposed the link between John Podesta and Stephen Colbert.
Craig Minassian of the Clinton group e-mailed John Podesta:
"I hope you got a chance to see the The Colbert Report's two special episodes I had them do about CGI U that we taped in St. Louis this weekend"
From Washington Examiner:
Elizabeth Colbert Busch, the Democratic nominee for Congress in a South Carolina special election, is headed to Washington D.C. for a fundraiser with some of the top liberal lobbyists.

John and Tony Podesta are two of the three people identified as host committee members on the fundraising invitation, which was obtained by The Washington Examiner from a lobbyist.

…. The April 15 fundraiser — donors are asked to contribute up to $10,000 — will also be populated by dozens of Democratic lawmakers. – Click for full article: http://www.washingtonexaminer.com/el…rticle/2526552