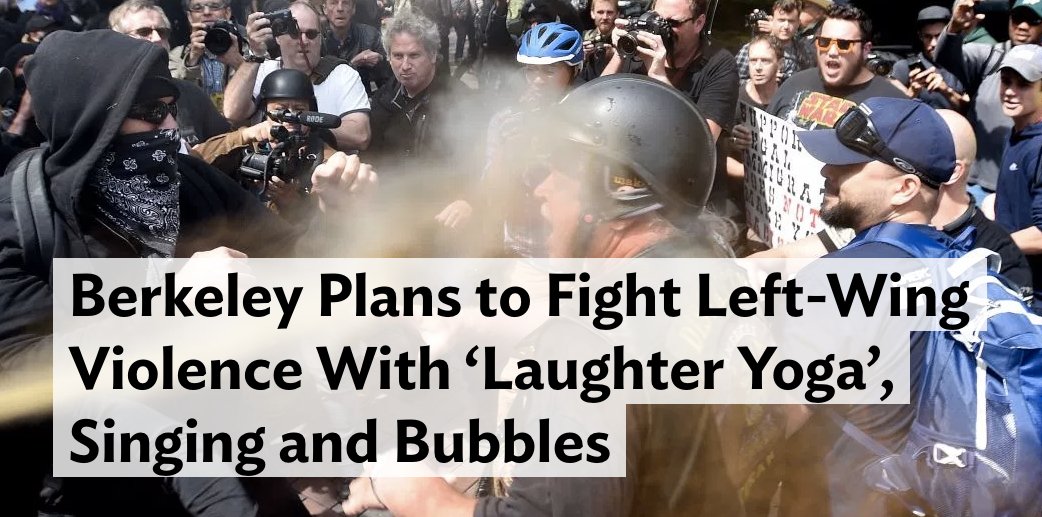 Berkeley radical mayor Jesse Arreguin and his team found solutions to their antifa thugs out of control rage problem.
The list: "laughter yoga", "Envision Wavy Gravy, bubbles, singing, peace symbol cookies and daisies from Code Pink, empathy tent, Buddhist Peace Meditators, fencing with sponge noodles"
So hilarious and so typical left-wing retard. Story below:
---
From Heatstreet:
In an email dated April 20, Downtown Berkeley Association CEO John Cainer come up with a genius idea to stop the violence—have "quiet conversations" with the radical anarchists and ask them to stop committing violence.
He shared his idea to Mayor Jesse Arreguin and his chief of staff Brandi Campbell, writing "Do you think there is a possibility of having quiet conversations with leftist activist groups to see is they would be willing to stand down and not show up for May 2 and/or other events?"
In an email chain, received by multiple council members and the Mayor, City of Berkeley volunteer Commissioner Phoebe Anne Sorgen suggested starting a peace force to stop the violence with things like "bubbles" "singing," and "laughter yoga".
"Envision Wavy Gravy, bubbles, singing, laughter yoga! Occupella. Buddhist Peace Meditators. Fencing with sponge noodles," she wrote. "Will Edwin set up the Empathy tent? How about a volleyball game in the middle of the park and/or a square dance? Will Code Pink pls bring peace symbol cookies to pass out, and daisies".
Interestingly, the commissioner's suggestions for an "Empathy Tent" was actually realized at a protest at UC Berkeley on April 27.
Read more: 'Laughter Yoga' and 'Quiet Conversation' With Antifa: Berkeley's Secret Plan to Stop Violence