According to an over 8,000-word investigation by Politico, the Pinocchio-in-chief Barack Obama lied about the 'Iranian civilians' he released for prisoner swap. The seven Iranians Obama released and 14 others he forced the Justice Department to drop charges were Iranian spies whose were in U.S. to steal military technology that would help Iran build their nuclear weapons.
The seven were allegedly part of an "illegal procurement network supplying Iran with U.S.-made microelectronics" that would help create surface-to-air and cruise missiles. Information that will come in handy. In seven years, "all the sanctions, even arms embargoes and missile-related sanctions… would all be lifted," Hassan Rouhani correctly noted during the post-deal Iranian celebration.
Obama's top adviser and other brain Valerie Jarrett is a Muslim Iranian. Both have very SOFT spot when it comes to Iran.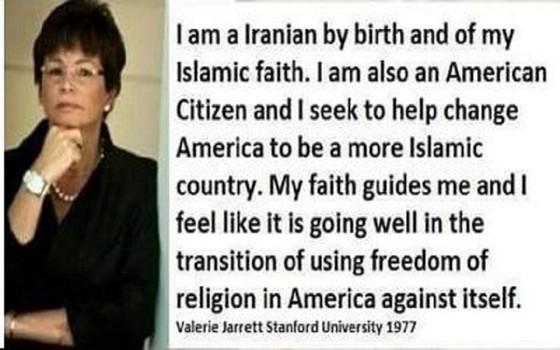 Story below from Politico:
When President Barack Obama announced the "one-time gesture" of releasing Iranian-born prisoners who "were not charged with terrorism or any violent offenses" last year, his administration presented the move as a modest trade-off for the greater good of the Iran nuclear agreement and Tehran's pledge to free five Americans.
In his Sunday morning address to the American people, Obama portrayed the seven men he freed as "civilians." The senior official described them as businessmen convicted of or awaiting trial for mere "sanctions-related offenses, violations of the trade embargo."
In reality, some of them were accused by Obama's own Justice Department of posing threats to national security. Three allegedly were part of an illegal procurement network supplying Iran with U.S.-made microelectronics with applications in surface-to-air and cruise missiles like the kind Tehran test-fired recently, prompting a still-escalating exchange of threats with the Trump administration. Another was serving an eight-year sentence for conspiring to supply Iran with satellite technology and hardware. As part of the deal, U.S. officials even dropped their demand for $10 million that a jury said the aerospace engineer illegally received from Tehran.
Rad more: Obama's hidden Iran deal giveaway
Key Players: The seven Iranians Obama released