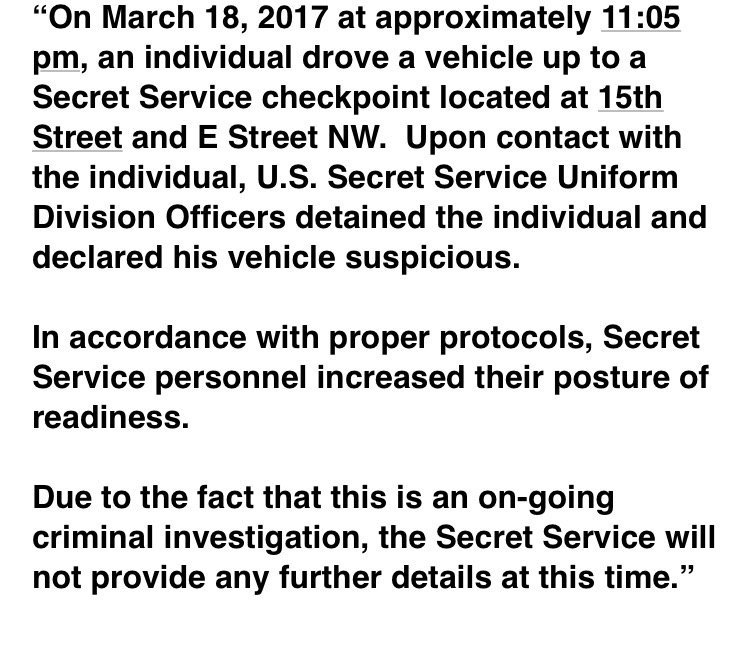 ( Daily Mail ) A driver reportedly pulled up to the White House and claimed to have a bomb in their car early Sunday.
It is not clear if there was an actual explosive device in the vehicle. The driver was taken into custody and security was upgraded at the White House according to CNN.
Streets around the residence were also closed.
Saturday, a person jumped over a bike rack in a buffer zone in front of the White House on Saturday while President Trump was in Florida, but was not able to make it over the fence into the grounds.
Two Secret Service agents tackled the individual, who was arrested and questioned.
Jonathan Tuan-Anh Tran, 26, who had two cans of mace and said he had an appointment with his 'friend' President Donald Trump, faces a maximum sentence of 10 years in prison for entering the grounds without permission.
The individual managed to climb over an outer perimeter fence, scale a vehicle gate and hop another fence near the southeast corner of the White House's East Wing before he was captured after his 16 minute-plus jaunt, according to the Secret Service statement.
'The Secret Service can confirm that at no time did the individual gain entry into the White House,' the statement said.
Tran's arrest came about a week after a more serious incident that called into question security outside the White House.
Just before midnight on March 10, a man scaled three barriers outside the White House — a perimeter fence, a vehicle gate and then another fence — and walked around the grounds of the executive mansion for 16 minutes before being arrested.
That time Trump was inside the building.
READ MORE: Bomb scare at the White House: Man drives to the gates and tells security he has explosives in his car – the second security alert at the president's home in as many days