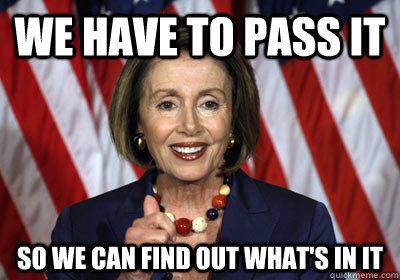 Today, the 2010 Obamacare composed of 2,000-plus-pages got cut by the GOP down to 105 pages with their Obamacare Replacement bill. And while the Democrats disastrous healthcare bill was kept secret, was passed without being read,  voted by Democrats only with zero votes from GOP,  this time the GOP bill is made available to the public before the voting. Democrat Nancy Pelosi said 'We have to pass the bill to find out what's in it!' – not this time!
What's inside Obama Replacement Bill:
The bill defunds Planned Parenthood.
The bill even shuts down health insurance plans that cover abortion. According to

a House Ways and Means Committee digest

, the measure forbids spending federal tax subsidies on health plans that include coverage of abortion, even if the customer doesn't get an abortion.
Obamacare mandaIncome-based premium subsidies would be replaced by age-based subsidieste and penalty gone.
Income-based premium subsidies would be replaced by age-based subsidies
People with pre-existing conditions can keep their insurance.
It also allows people under the age of 26 to stay on their parents' insurance.
Click HERE to read the entire bill.