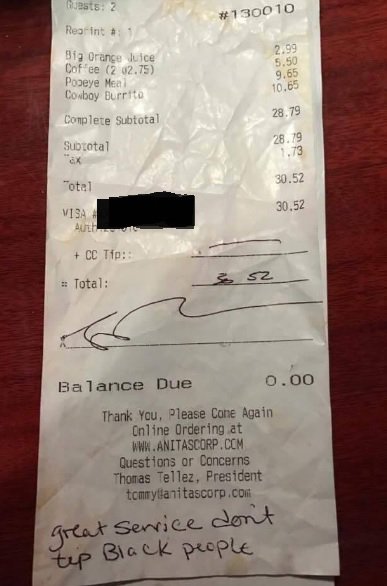 ( Milo ) Kelly Carter, a waitress at Anita's New Mexico Cafe, has been accused of forging a racist note and claiming one of her white customers left it for her after stiffing her on his bill.
According to The Dail Caller, Carter initially claimed the customer wrote "Great service, don't tip black people" at the bottom of his receipt.
She shared the following photo, which the mainstream media very quickly picked up and began circulating.
When the photo first began making the rounds, many pointed out the stark difference in handwriting.
Still, liberal outlets like The Huffington Post continued to carry the story as pure fact. Carter reportedly subsequently received thousands of dollars in tips from strangers who read about her story and wanted to help.
The NAACP even got involved.
READ MORE: Waitress Accused Of Fabricating Racist Note