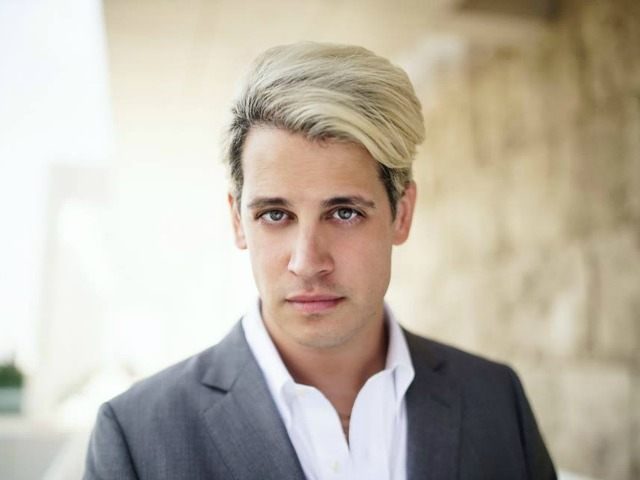 Milo Yiannopoulos  ( born 18 October 1984) is a Greek-born British journalist, author, entrepreneur, public speaker, and senior editor for Breitbart News. As a "cultural libertarian"[6] and "free speech fundamentalist", he is a vocal critic of third-wave feminism,  Islam, social justice, political correctness, and other movements and ideologies he deems authoritarian or belonging to the "regressive left".  Yiannopoulos is a supporter of Donald Trump, whom he refers to as "Daddy".[16] In a Breitbart article, he and a co-author championed the movement and its intellectual backers, whom he described as "dangerously bright".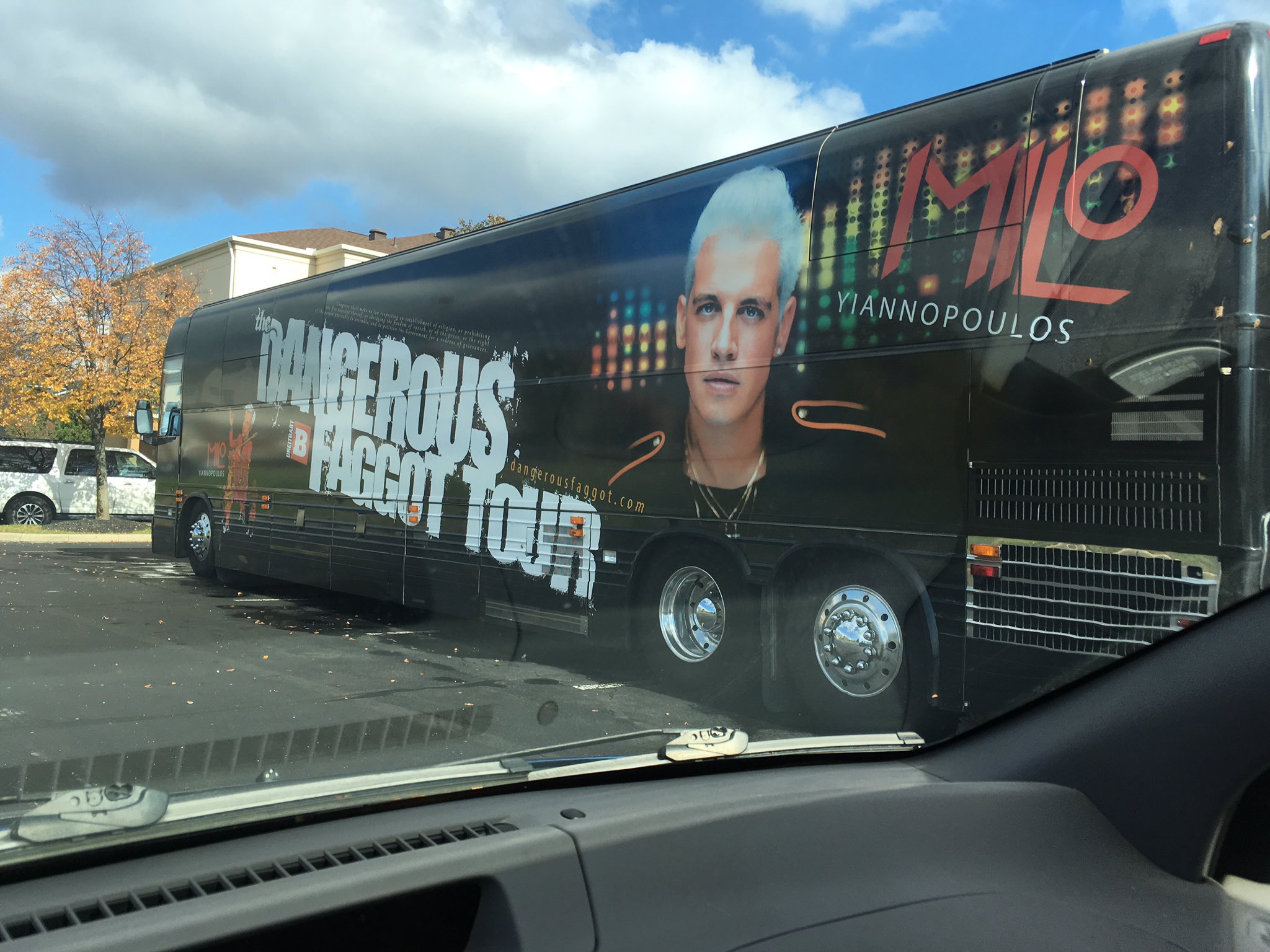 Dangerous Faggot Tour
In late 2015, Yiannopoulos began a campus speaking tour called "The Dangerous Faggot Tour", encompassing universities in the United States and Great Britain. A number of his scheduled speeches in Great Britain were cancelled.[102] Although most of his American speeches were not cancelled, some were met with notable protest ranging from vocal disruptions to cancellation via the heckler's veto. The journalist Audrey Goddard analysed his speech at the University of Pittsburgh. He concludes that Yiannopoulos spends the "majority of the time voicing his opinions with little to no factual statements accompanying them", which he thought was ironic taking in account how Yiannopoulos repeatedly insisted "that he was just stating "facts.""[
His own sexuality
While Yiannopoulos is gay, he has stated that gay rights are detrimental to humanity, and that gay men should "get back in the closet".[98] He has described being gay as "aberrant" and "a lifestyle choice guaranteed to bring [gay people] pain and unhappiness".[99] He has said that he would love to experiment with conversion therapy, but not because he thinks it'll work."[100]
In September 2015, Yiannopoulos guest-starred on Joe Rogan's YouTube show, The Joe Rogan Experience. During the show, Yiannopoulos claimed to have lost his virginity at age 13 "in an interracial fivesome with a drag queen".[101] Some have accused Yiannopoulos of exaggerating his homosexuality for comic effect, and falling back on homophobic tropes in doing so.
Milo's articles on Breitbart:
Early and personal life
Yiannopoulos was born in Greece and raised in a small town in Kent in southern England.[1] His father is Greek and his mother is British.[13][14][15] His parents divorced when he was a young child and he was raised by his mother and her second husband, with whom he did not have a good relationship. Yiannopoulos described his father as "terrifying" and remarking upon his family's wealth he said "I would think, if my dad is just a doorman, why do we have such a nice house? Then I saw it on The Sopranos." As a teenager, Yiannopoulos lived with his grandmother, who regularly took him for high tea at Claridge's.[14]
He is a practising Catholic, but also identifies with Judaism through his mother[16] which has put him at odds with neo-Nazi elements of the alt-right.[17] He was educated at Simon Langton Grammar School for Boys. He attended the University of Manchester, dropping out without graduating.[18] He then attended Wolfson College, Cambridge, where he studied English literature for two years before dropping out.[19] Regarding dropping out of university, in a 2012 interview he said "I try to tell myself I'm in good company, but ultimately it doesn't say great things about you unless you go on to terrific success in your own right."[
The Telegraph Tech Start-Up 100
Yiannopoulos organized a method of ranking the most promising technology start-ups in Europe, The Telegraph Tech Start-Up 100, in 2011.
Gamergate
Yiannopoulos played a role in early news coverage of the Gamergate controversy, criticising what he saw as the politicization of video game culture by "an army of sociopathic feminist programmers and campaigners, abetted by achingly politically correct American tech bloggers."
Twitter controversies
In December 2015, Twitter briefly suspended Yiannopoulos' account after he changed his profile to describe himself as Buzzfeed's "social justice editor".[60] His Twitter account's blue "verification" checkmark was removed by the site the following month.[60] Twitter refused to give any explanation for the reason of the removal of verification, saying that they do not comment on individual cases.[61] Some news outlets speculated that Yiannopoulos had violated its speech and harassment codes, as with an instance where he told another user that they "deserved to be harassed".[62][63] Others worried that Twitter was targeting conservatives.[64][65][66]
In March 2016, Yiannopoulos acquired accreditation for a White House press briefing for the first time. Prompted by his recent de-verification by Twitter, Yiannopoulos asked Josh Earnest to comment on the free-speech stance of prominent social media platforms.[67][68][69][70]
For his criticism of Islam after the 2016 Orlando nightclub shooting, a terrorist attack on a gay nightclub, his Twitter account was briefly suspended in June 2016. His account was later restored.[71][72]
In July 2016, Yiannopoulos panned the Ghostbusters reboot as "a movie to help lonely middle-aged women feel better about being left on the shelf."[73][74] After the film's release, Twitter trolls attacked African American actress Leslie Jones with racist slurs and bigoted commentary. Yiannopoulos wrote three public tweets about Jones, saying "Ghostbusters is doing so badly they've deployed [Leslie Jones] to play the victim on Twitter", before describing her reply to him as "Barely literate" and then calling her a "black dude".[75][76][77] Multiple media outlets have described Yiannopoulos' tweets as encouraging the abuse directed at Jones.[78][79] Yiannopoulos was then permanently banned by Twitter.[80]
Yiannopoulos stated that he was banned because of his conservative beliefs.[81] In an interview with CNBC, he denounced the abusive tweets sent by others at Jones, and said he was not responsible for them.[82] After his suspension from Twitter, the hashtag "#FreeMilo" began trending on the site by those who opposed Twitter's decision to ban him.[83] In an interview at the 2016 Republican National Convention, Yiannopoulos thanked Twitter for banning him because he believed it made him more famous.[84]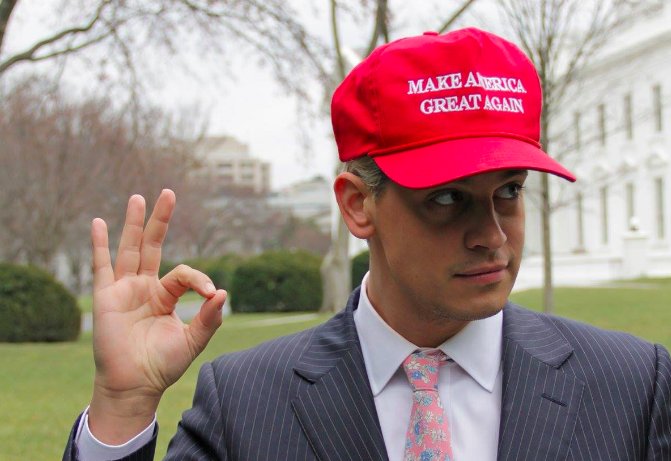 Breitbart Tech
In October 2015, the Breitbart News Network placed Yiannopoulos in charge of its new "Breitbart Tech" section.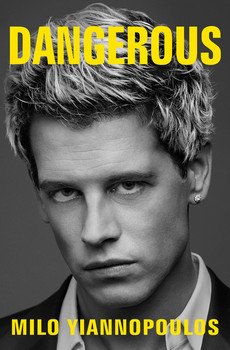 Book
An autobiography titled Dangerous was announced in December 2016. Yiannopoulos has reportedly received a $250,000 advance payment from the book's publisher, Simon & Schuster. It will be published under their Threshold Editions imprint and is scheduled for release on 14 March 2017. A day after its announcement, pre-sales for the book elevated it to first place on Amazon.com's list of best-sellers.[136] The book announcement attracted controversy, including a statement on Twitter by The Chicago Review of Books that they would not review any Simon & Schuster book because of the book deal.[137][138] It also drew criticism from Simon & Schuster authors Tim Federle, Rainbow Rowell, and Danielle Henderson.
SOURCE: https://en.wikipedia.org/wiki/Milo_Yiannopoulos