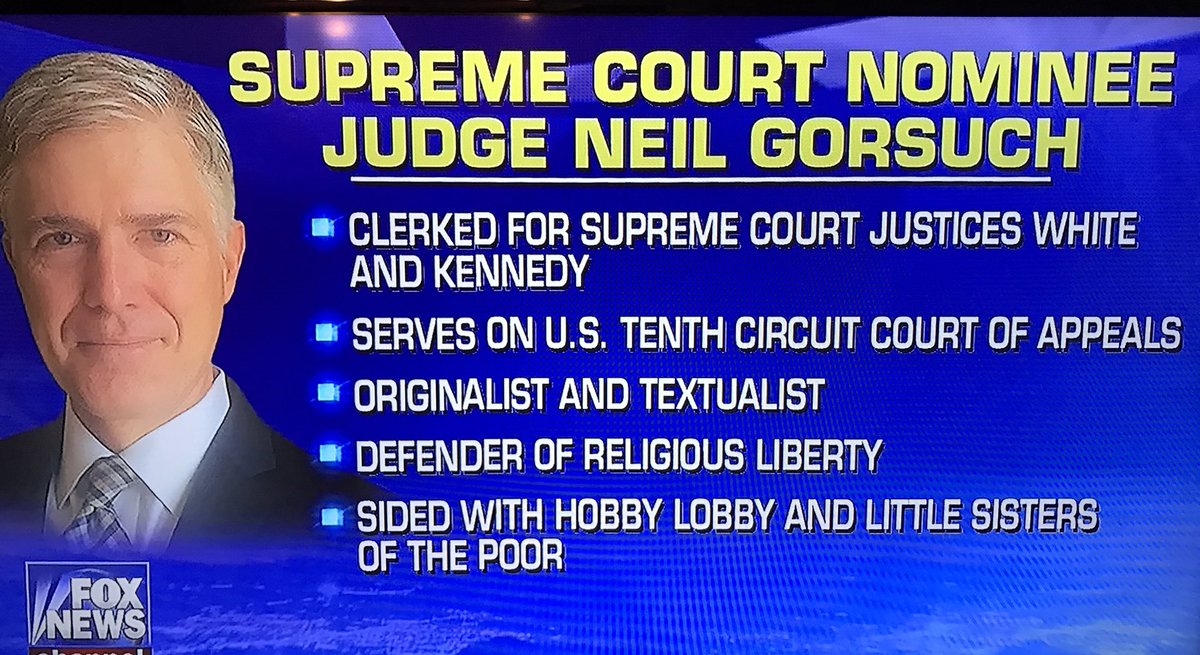 Jan 31, 2017 // 8:05pm      As seen on The O'Reilly Factor  by Fox News Insider
Tuesday night, President Trump nominated Judge Neil Gorsuch to replace the late Supreme Court Justice Antonin Scalia, who passed away last February.
Trump said Scalia's credentials were in his mind when making the decision to choose Gorsuch.
Gorsuch is 49 years old and was born in Denver, Colo., where he sits on the 10th Circuit United States Court of Appeals, to which he was nominated by former President George W. Bush.
The judge has been married to Louise Gorsuch for more than 20 years, he said, and has two daughters.
He graduated from Harvard Law School in 1991 and received a B.A. from Columbia University in 1988.
Gorsuch clerked for Supreme Court Justice Anthony Kennedy and former Justice Byron White.
He was the principal deputy to the associate attorney general and acting associate attorney general in 2005-2006.
Seen as an ardent defender of religious liberties, Gorsuch wrote a book on the ethics of assisted suicide and Euthanasia.
Most recently, he ruled in favor of Hobby Lobby in the company's lawsuit against ObamaCare, writing: "The ACA's mandate requires them to violate their religious faith by forcing them to lend an impermissible degree of assistance to conduct their religion teaches to be gravely wrong."
In a 2016 speech, he memorialized the New Jersey native Scalia who preceded him as a "lion of the law."
SOURCE: What You Need to Know About Gorsuch