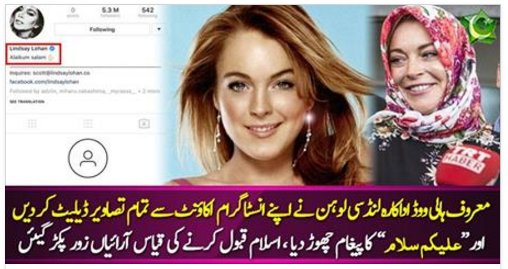 PARHLO – In the search of finding peace in her life, Lohan revealed several times how she is a spiritual person and Quran is helping her in numerous ways. In 2016, Lohan spent a lot of time in Dubai and Turkey where she volunteered her services to help the Syrian refugees. During her stay in Turkey, she shared how the United States criticized her for embracing and learning Islam. "I was glad to leave America and move back to London after how people in the US commented on my interest to study Islam. I felt unsafe in my country. It is my own will to study Islam" – Lohan in an interview to Turkish show Habertürk. 
In the beginning of 2017, she informed her fans on how this year will be an amazing year for her. With all of her charity work and studying Islam, Lohan has now wiped her Instagram and Twitter account. One amazing thing she did while cleaning her Insta account is what she added to her bio. Take a look:
By removing all her past life's images and adding 'Alaikum salam' to her bio has got everyone speaking on how she has converted to Islam. Muslims from all around the world are welcoming her to the religion.
READ MORE: Lindsay Lohan Kick Starts Her 'Religious' Renewal By Wiping