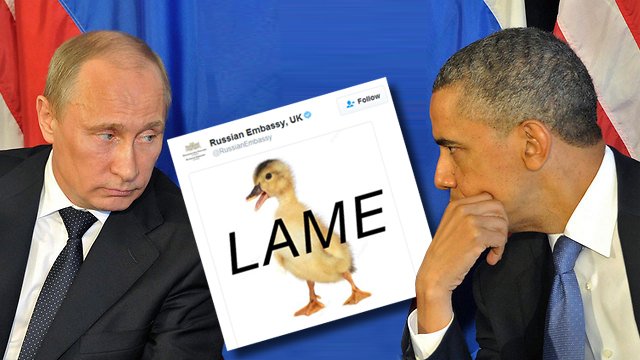 Russians Attack 'Political Corpse' Obama
this is the agony of not the lame ducks, but of political corpses
Obama was attempting to annoy Russia "out of impotence
the current [U.S.] most important person, like a 'mad printer,' is creating laws and decrees with the goal to freeze the 'foreign affairs revolution' of the new administration
Obama's decision to expel Russian diplomats—in addition to sanctioning a number of Russian companies and individuals—is nothing but evidence of the agony of the outgoing administration, Konstantin Kosachev, head of the International Committee of the Russian Upper House of Parliament, said to RIA Novosti. "The leaving administration has no reason and no political or moral right for such drastic and disruptive steps with regards to bilateral relations with Russia. Forgive me for being harsh, but I just cannot find other words: this is the agony of not the lame ducks, but of political corpses," the Russian Senator said. "[President Obama] put at stake the US' reputation as an adequate state that ensures policy continuity in the process of change of power."
Chepa's colleague from the International Committee of Parliament, Vladimir Dzhabarov, believes Obama was attempting to annoy Russia "out of impotence." "Obama proved himself to be an arbitrary person who happened to lead the United States," he said.
Russian think-tanks and academia agree. "The goal of the 44th US President is to complicate things for the 45th one," Gevorg Mirzayan, a professor at Financial University under the Government of the Russian Federation, told Komsomolskaya Pravda newspaper.
"This is very unusual," Mirzayan continued, "because usually when one's political opponents from another party arrive into the White House, the power is transferred with dignity. But instead of this, the current [U.S.] most important person, like a 'mad printer,' is creating laws and decrees with the goal to freeze the 'foreign affairs revolution' of the new administration. I believe that the personal antipathies of Obama, who believes 'Putin beat him on all fronts—including the elections' play a role here."
"Obama is setting as many traps as possible for Mr. Trump on [the] international field," echoed Alexander Domrin, a professor at the Russian High School of Economics.
READ MORE: http://observer.com/2016/12/russian-media-responds-to-obama-anti-russia-sanctions/