Liberals are going nuts they cannot protest near Donald Trump on his inauguration. They thought they are being singled out when in fact this is a standard procedure for inaugurations and would have happened if Hillary Clinton was elected.
Washington Examiner reports:
 While this is standard procedure for inaugurations, and would have happened if Hillary Clinton was elected instead, it has angered some who planned to protest Trump.
If you think Bush-derangement-syndrome that hit Democrats for eight years was bad to watch, the Trump-derangement-syndrome is even worse.
President George W. Bush's inaugural parade Saturday was brought briefly to a halt on Pennsylvania Avenue near the focal point of rowdy but largely peaceful protests by demonstrators — who burned American flags, booed the Army band, and threw dozens of plastic bottles and coins at the limousine carrying the official party.

A crowd of about 500 people with placards bearing slogans like "Don't blame me, I voted with the majority," or calling for the freeing of convicted murderer Mumia Abu Jamal, chanted "Hail to the Thief" and cheered one demonstrator who clambered atop a traffic light and set fire to an American flag.

After burning the flag, the demonstrator flung himself down into the crowd where willing arms bore him aloft safely away from police, who — in an apparent attempt to arrest him — surged forward, initiating a bout of pushing and shoving. Then — as if at some hidden signal — the demonstrators immediately left the vicinity, to join a larger group of their compatriots down the block.

One demonstrator told United Press International, "I am here because democracy is deformed."

Others were blunter. "Fk the police state," they cried.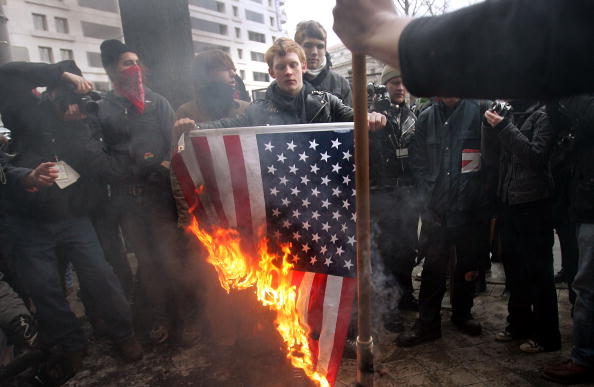 WASHINGTON – JANUARY 20: Anarchists burn an American flag after U.S. President George W. Bush's second term inauguration parade January 20, 2005 in Washington, D.C. Bush was sworn in to second term during a ceremony at the Capital. (Photo by Mario Tama/Getty Images)
Washington, D.C. – 2005 – Washington Metropolitan police violently subdue a large group of young protesters, linked to the Anarchist movement, as the protesters attempted to storm a barricade at 7th and D Streets during the second inaugural of George W. Bush. The police are wielding PVC tubes taken from the protesters' banner, which was destroyed at the start of the melee. The police also used pepper spray to push the protesters back from the intersection. (Amy Davis / Baltimore Sun Staff)