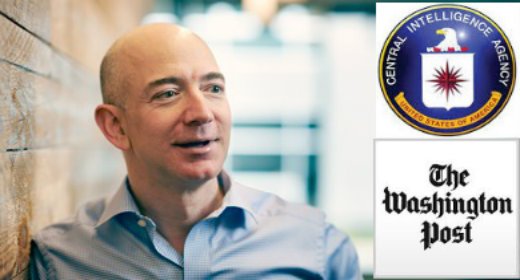 The Washington Post published a report this weekend that claims the CIA has found that Russia intervened in the 2016 election to help Donald Trump win the presidency.
The claim is only from CIA while 16 other intel agencies disagree with them.
Remember, in 2013 CIA awarded $600 million deal to Amazon, whose founder Jeff Bezos is owner of Washington Post ( Amazon, 'The Washington Post' and That $600 MIllion CIA Contract … )
Meanwhile, a petition campaign was launched related to news that Amazon, under the Post's new owner, Jeff Bezos, recently secured a $600 million contract from the CIA. That's at least twice what Bezos paid for the Post this year. Bezos recently disclosed that the company's Web-services business is building a "private cloud" for the CIA to use for its data needs.

Critics charge that, at a minimum, the Post needs to disclose its CIA link whenever it reports on the agency. Over 15,000 have signed the petition this week hosted by RootsAction.
The Russian hacking meme was reported as not true in October by  The New York Times :
For much of the summer, the F.B.I. pursued a widening investigation into a Russian role in the American presidential campaign. Agents scrutinized advisers close to Donald J. Trump, looked for financial connections with Russian financial figures, searched for those involved in hacking the computers of Democrats, and even chased a lead — which they ultimately came to doubt — about a possible secret channel of email communication from the Trump Organization to a Russian bank.

Law enforcement officials say that none of the investigations so far have found any conclusive or direct link between Mr. Trump and the Russian government. And even the hacking into Democratic emails, F.B.I. and intelligence officials now believe, was aimed at disrupting the presidential election rather than electing Mr. Trump.

Hillary Clinton's supporters, angry over what they regard as a lack of scrutiny of Mr. Trump by law enforcement officials, pushed for these investigations. In recent days they have also demanded that James B. Comey, the director of the F.B.I., discuss them publicly, as he did last week when he announced that a new batch of emails possibly connected to Mrs. Clinton had been discovered.