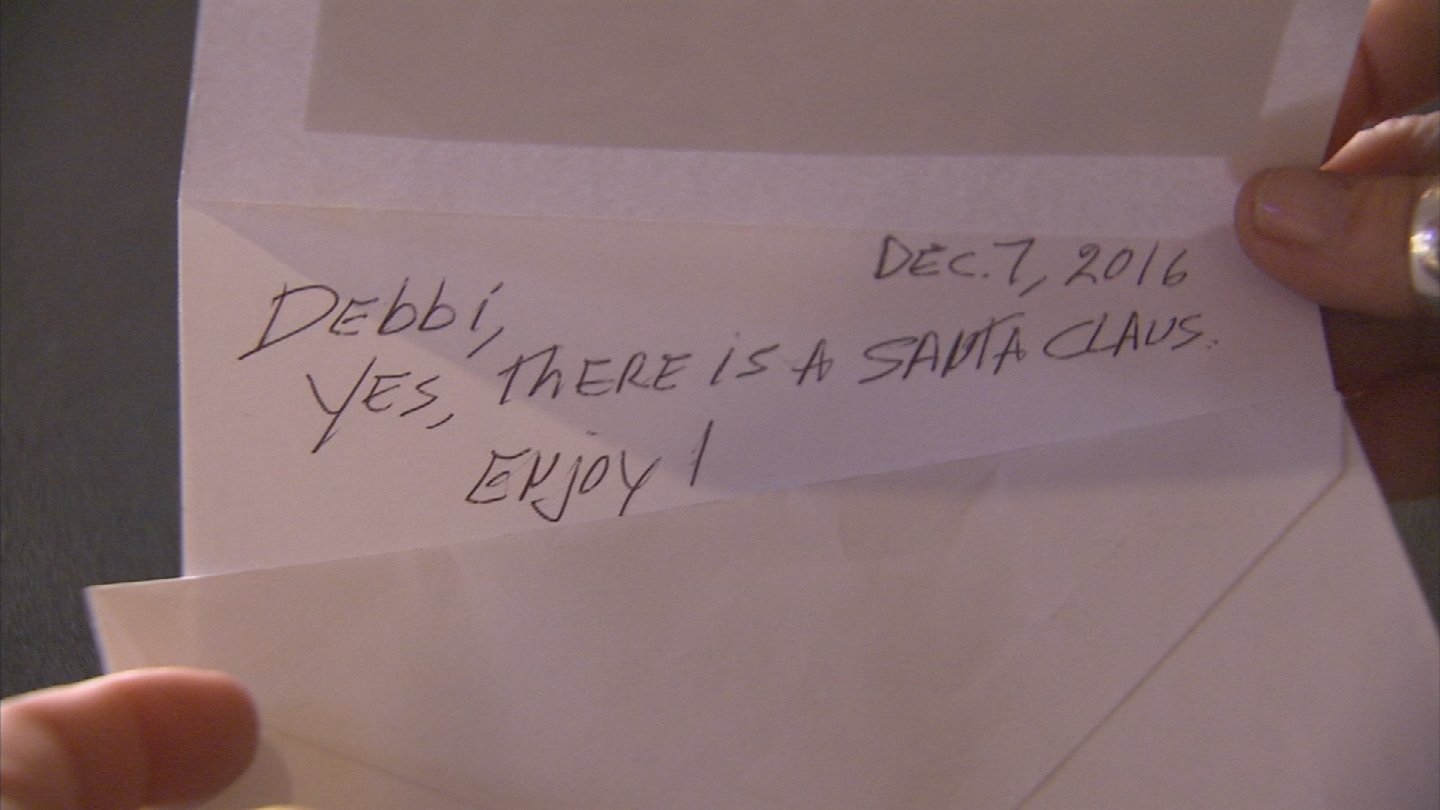 Scottsdale waitress gets $1,000 holiday tip
SCOTTSDALE, AZ (KPHO/KTVK) –
'Tis the season of giving, and one man went above and beyond to make sure a waitress at one of his favorite restaurants had a very good day.
He gave Deb Blakely of ChiZona's Pizza in Scottsdale a four-figure tip. Yes, you read that right – $1,000.
Blakely, who has worked at ChiZona's for 16 years, was blown away by the kindness of the man and his wife.
"I felt as though I was the chosen one – as a Christmas Angel and he was Santa Claus," she said. "It's a pretty amazing story."
Blakely said the man – a regular at the restaurant – simply walked up to her Wednesday and handed her a card. A nice gesture by itself, she never expected what she found in that envelope.
"It says, 'Debbi, Yes, there is a Santa Claus,' she said.
It's just like the line from the famous 1897 editorial in The (New York) Sun published as an answer to a child's letter asking if Santa Claus really existed.
Blakely's Santa quite literally put his money where his mouth is.
"There was a check for $1,000," Blakely explained.
To say she was touched and appreciative doesn't begin to describe how she feels.
"So, yeah, there are some nice people left out there," she said, fighting back tears as she tucked the card back into the envelope. "This thousand dollars tremendously made my Christmas wonderful."
She said nothing like this has happened at ChiZona's before.
"I am just blown away," she continued. "So, there are some good people out there that really care. And I can't tell these people how much I appreciated this generous gift. … I cried pretty much all day, tears of happiness."
Blakely said she's going to use the money to catch up on some bills.
Although she didn't share her secret Santa's name, she is truly grateful for his kindness.
"I just want this couple to know that I appreciate it more than words can say," she said. "And I wish them a very merry Christmas."
http://www.azfamily.com/story/34005432/scottsdale-waitress-gets-1000-holiday-tip