Is it just me or 18-year-old Malia Obama has been acting like a rebellious teenager since she got caught on video twerking and smoking 'weed' at Lollapalooza music festival in July. Radar Online reports Obama grounded the 18-year-old after the incident.
The weed scandal continued to Amsterdam! Malia Obama kicked off her gap year after her high school graduation by going to Amsterdam this summer. The first daughter was partying at The Sugar Factory in Amsterdam  and The DJ of the said establishment commented on the young girl's "sexy dance moves."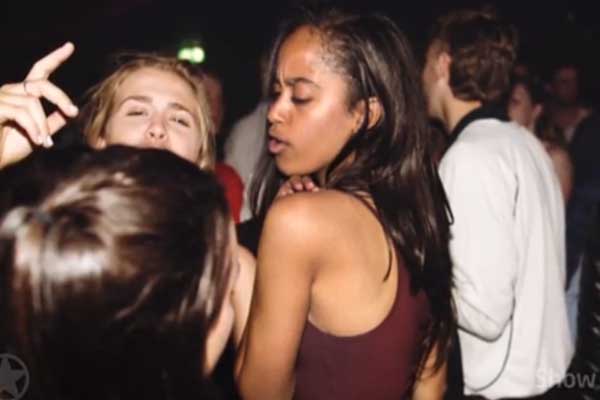 The Inquisitr reports that 18-year-old Malia Obama's friends at the Lollapalooza in July. Rapper Taylor Bennett is on probation after committing a crime related to aggravated battery/great bodily harm in April. His brother Chace is also on probation and also had to take random drug tests as part of their 40-hour community service. "Legal documents reveal that Malia Obama's friend 'completed two random screenings' on July 6 and July 13, 2016, and they tested positive for 'THC50,' the test for marijuana," as per the report.
Obama told PBS  that Malia doesn't listen to her Dad anymore :
Malia has also shown her independent side…Her father confirmed the rebellious independent streak. Asked during last month's trip to Vietnam how he would react if Malia told him she wants to spend her gap year in the southeast Asian country, Obama first said he'd encourage her. Then he added: "But what I've learned is, is that … she already doesn't listen to me, whatever I say."

( Malia Obama graduates from high school this week | PBS … )
( DAILY MAIL ) Barack Obama lit the National Christmas Tree at the White House for the eighth and final time as president on Thursday night.
Obama was joined by wife Michelle and their younger daughter Sasha, 15, for the 94th annual National Christmas Tree Lighting on the Ellipse, the public park located south of the White House fence.
The First Family was notably missing older daughter Malia, who is currently taking a gap year before starting Harvard next fall. The 18-year-old also skipped out on her father's final turkey pardoning ceremony.
READ MORE: A Festive Farewell! First Family lights the National Christmas Tree at the White House one last time (but Malia skips out again as she enjoys her gap year)