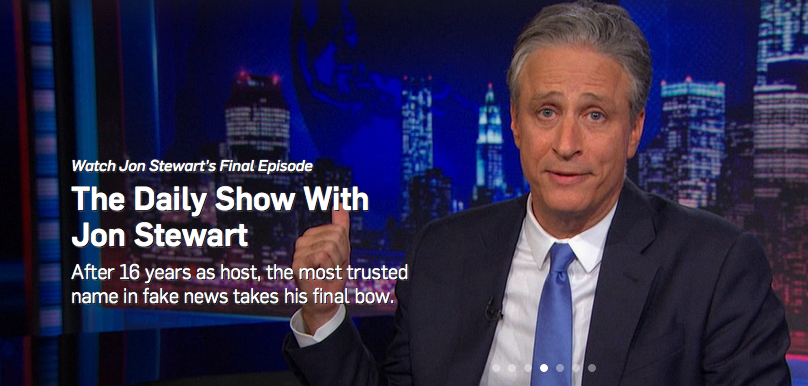 An industry that reveres Jon Stewart, and seeks analysis from Dan Rather and Brian Williams, is part of the problem.
The mainstream media continues to freak out over the spread of "fake news" on Facebook and other social media platforms such as Twitter and reddit. Hillary Clinton's late campaign thinks this is a problem.

On the same CBS show, Charlie Rose interviewed former "fake news" pundit and left-wing icon Jon Stewart about the election. During his Daily Show years, Stewart styled himself as both a serious pundit and a comedian, allowing him to walk the line between fake news and satire.

The show's set, and Stewart's demeanor, mirrored that of a network news program. His cast did on-location interviews, which were often heavily edited to present their own liberal point of view. But long after Stewart's show ended, he is still being propped up as an important voice in journalism.

Shortly before Stewart filmed his final Daily Show segment in August 2015, the Washington Post published a piece lamenting that "many millennials are about to lose their most-trusted news source."

CNN's Brian Stelter has made exposing fake news sites a bit of a pet project. He should start with his own network, along with its mainstream competitors. Stelter himself recently discussed the election with disgraced former CBS New anchor Dan Rather, who was forced to resign after presenting forged documents about George W. Bush's service in the National Guard as legitimate news.

CNN has run segments suggesting that asteroids cause climate change, and black holes can materialize in Earth's atmosphere and swallow 747 passenger planes . A CNN panel led by left wing commentator Sally Kohn declared their "hearts are out there marching" with protestors in Ferguson as they all raised their hands to mimic the Black Lives Matter protest mantra — "Hands Up Don't Shoot" — echoing an alleged gesture during a police shooting that was declared one of the year's biggest lies (ironically) by the Washington Post.