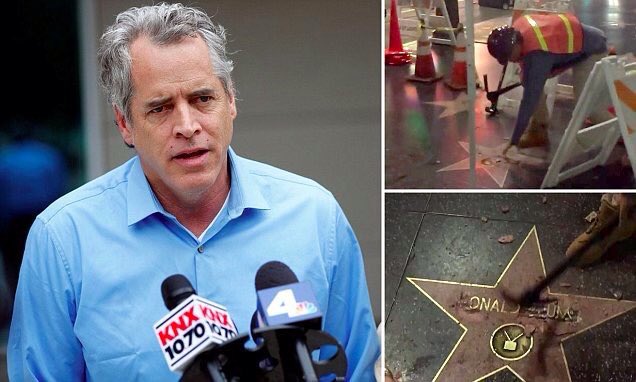 CEO James Otis, 52, heir the Otis Elevator Company fortune, was arrested on Thursday for taking a sledgehammer and pick-ax, dressed as a Los Angeles Department of Transportation worker, and beating Trump's Hollywood star Walk of Fame. The plaque is worth $30k, according to Hollywood Chamber of Commerce.
.
' He is a serial liar and misogynist and that's why we're here: to try to address that and help those women who told Mr. Trump they won't stand for it anymore', Otis said.
The 'non-violent activist' also said he had been arrested '24, 25 times' and that it would be an 'honor' to see Trump in court – fame hungry?
Otis said that he wants to 'put a spotlight on sexual violence in this country' – can you tell that to Hollywood, the master of every sex and violence movie?
James Otis is  CEO of the Otis Lambert Financial Group LLC, which raises capital for real estate and financial services projects. He is also a direct descendant of Elisha Otis of Otis Elevator Company, who invented a safety device to stop elevators if they fall. Otis is an activist and an heir to the Otis Elevator Company fortune, the Daily Mail reported.