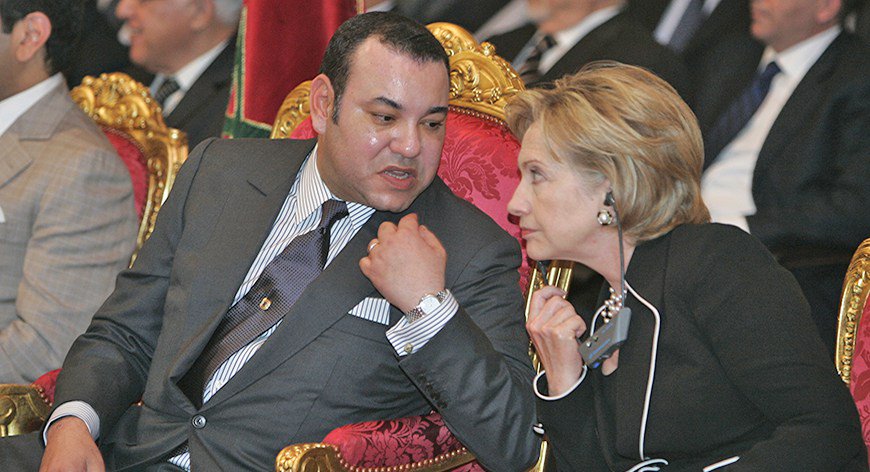 1. HILLARY CLINTON $12 MILLION 'APPEARANCE FEE' FROM KING OF MOROCCO
Hillary Clinton is not cheap folks! Wikileaks latest release shows another pay-for-play scheme from the crooked Democrat candidate. When King Mohammed VI of Morocco wanted to host and pay for the Clinton Global Initiative 2015 meeting in his country,  the not-too-shy Clinton Family chose the country over Singapore and Hong Kong on the condition of $12 million donation to its Clinton Foundation, according to an email made public Thursday by Wikileaks.
Hillary Clinton officially visited Morocco twice, in November 2009 and in February 2012, meeting with the King on both occasions. The two also met in New York in December 2013 where it was believed the two discussed Morocco's bid to host the CGI meeting and the King's $12 million donation.
But according to Huma Abedin , Clinton's Deputy Chief of Staff at the State Department,  the Moroccan deal was entirely dreamed up by her pay-for-play boss.  "This was HRC's idea, our office approached the Moroccans and they 100 percent believe they are doing this at her request. The King has personally committed approx. $12 million both for the endowment and to support the meeting."  HRC stands for Hillary Rodham Clinton.
Hillary failed to show up in the event because of beginning of election campaign and only had Bill and Chelsea attend the event.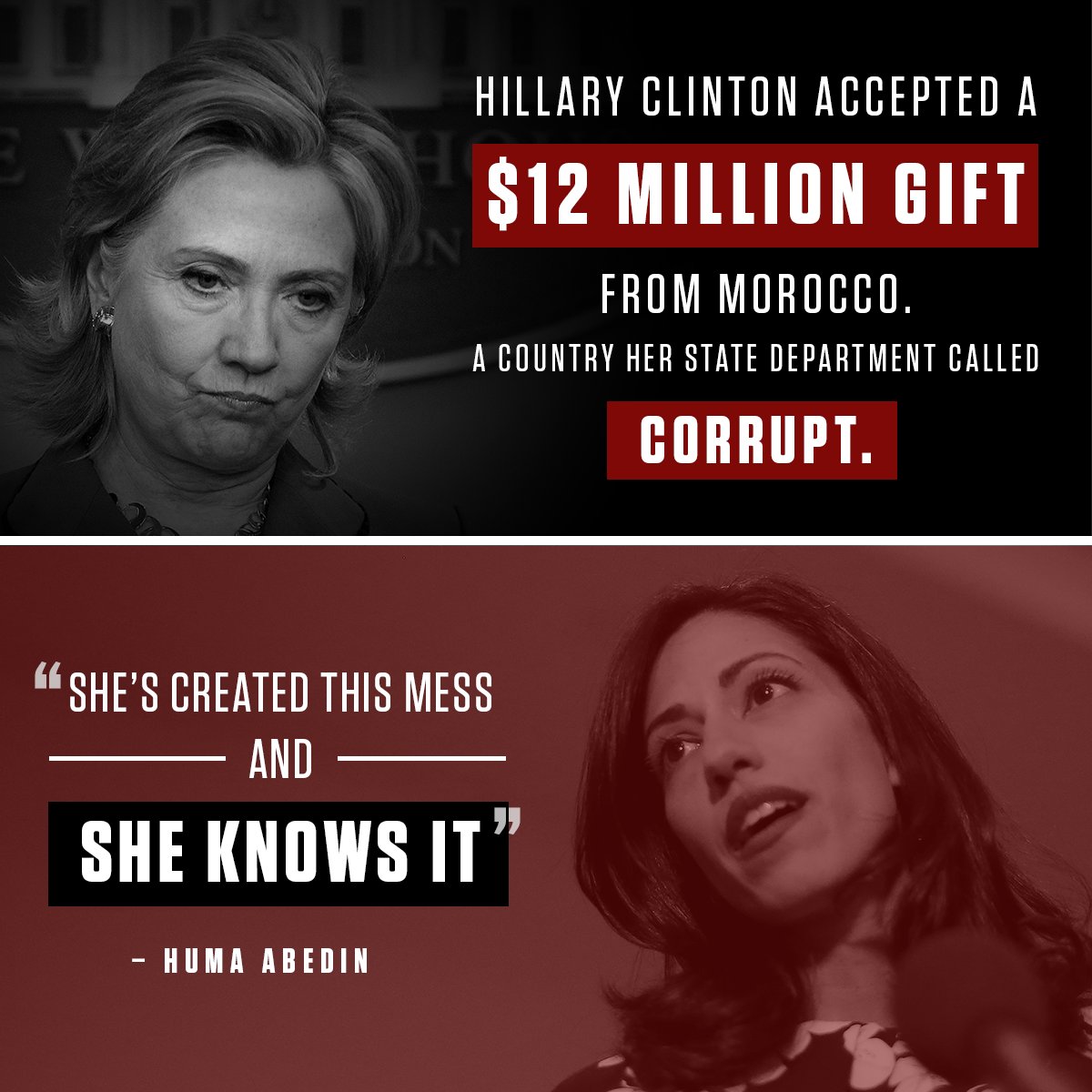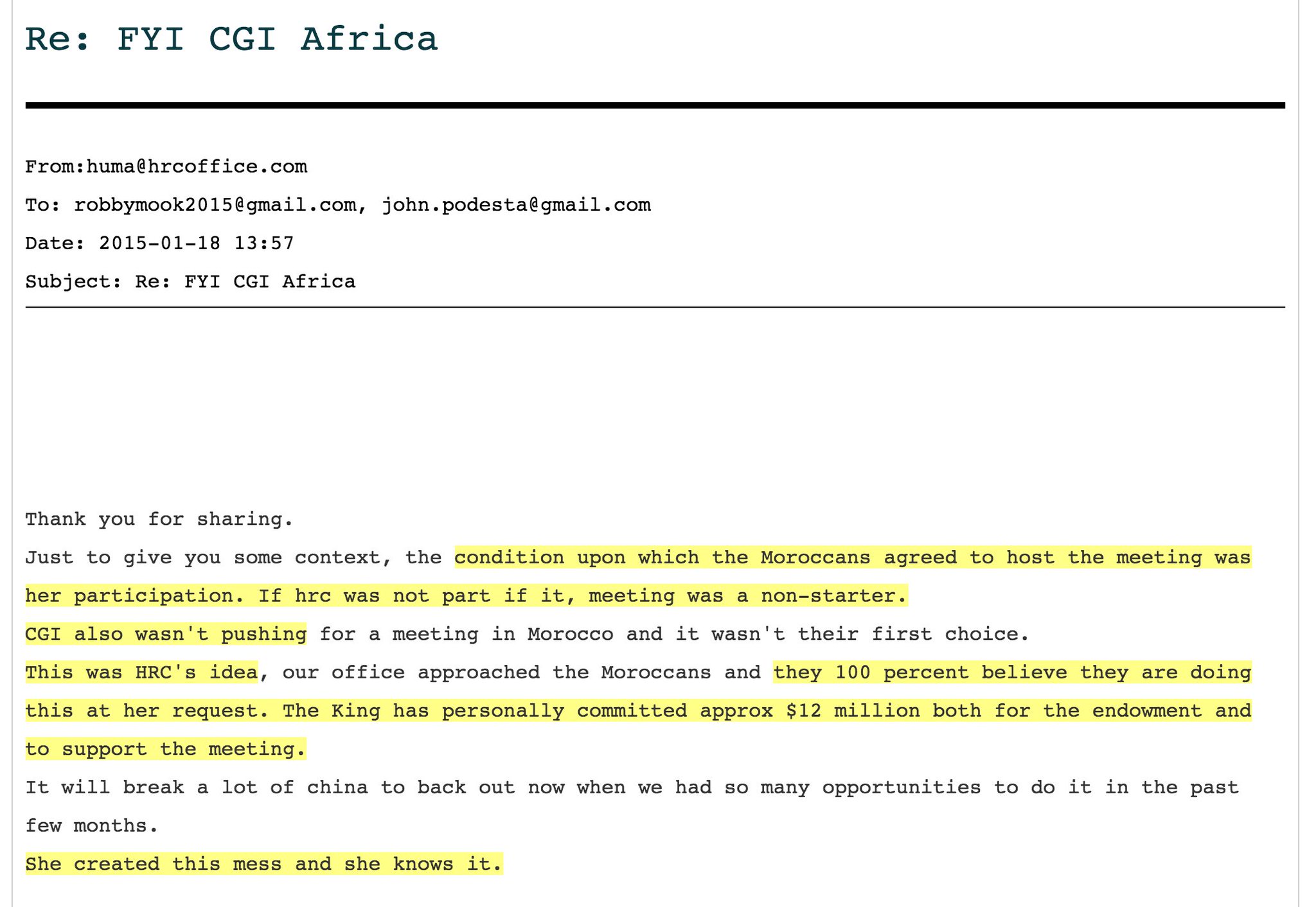 ————————————————————————–
2.  TRUMP TO HILLARY: 'MORE PAY FOR PLAY!'
 At Donald Trump's rally in Pennsylvania, he addressed the latest $12 million Wikileaks dump on Hillary Clinton.
' Now from WikiLeaks, we just learned she tried to get $12 million from the Kingdom of Morocco for an appearance.'
'More pay for play!' he boomed as a crowd of thousands booed and yelled, 'Lock her up!'
' That's why I'm proposing a path of ethics reforms to make our government honest again. It's time to drain the swamp in Washington, D.C.' 
---
3. CRAZY JOE BIDEN WANTS TO TAKE TRUMP BEHIND THE GYM TO TEACH HIM A LESSON.
Gaffe Machine VP Joe Biden wish he could take Trump 'behind the gym' in order to teach him a lesson. The angry Joe made the remark at a campaign stop on behalf of Hillary Clinton in Wilkes-Barre, Pennsylvania.
READ MORE:
   'I wish I could take him behind the gym': Biden implies he'd like to teach 'disgusting' Trump a lesson for his 'grab them by the p***y' comments