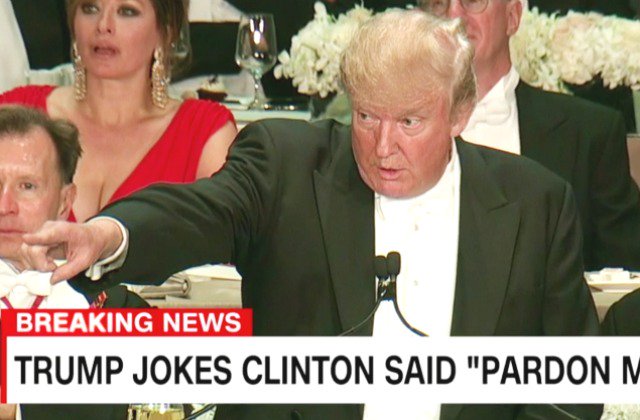 Donald Trump's joke: "Hillary accidentally bumped into me and she very civilly said 'Pardon me.' I very politely replied, 'let me talk to you about that after I get into office.'"
Donald J. Trump and Hillary Clinton were guests at the Alfred E. Smith Memorial Dinner in New York , an event where the presidential candidates traditionally poke fun at their rival and themselves.
Trump was booed when he made his Hillary-is-corrupt joke.
"Hillary is so corrupt she got kicked off the Watergate Commission. How corrupt do you have to be to get kicked off the Watergate Commission? Pretty corrupt," he said to loud jeers and at least one call demanding he get off the stage.
Best joke from Hilary at the gala:
If Donald does win, it will be awkward at the annual presidents' day photo when all the former presidents gather at the white house, and not just with Bill. How is Barack going to get past the Muslim ban?