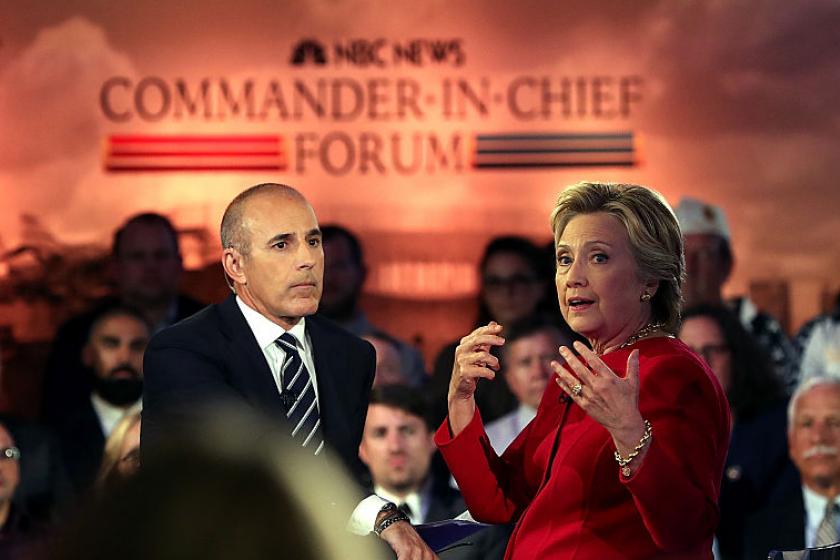 THE WRATH OF THE DEMOCRAT WITCH FROM THE EAST! We know already Hillary Clinton doesn't 'study' for debates but gets all her rigged question-and-answer 'butler' prepared for her by DNC and her pathetic enslaved liberal media buddies.
A story being leaked by  the technical crew for NBC, which produced the Commander-in-Chief forum last September 7,  tells about epic meltdown Hitler-style by Hillary Clinton after she walked off the set – a massive profanity-laced tirade aimed at NBC's host, Matt Lauer.
It turned out that Clinton had been fed all the questions for approval in advance of the forum.
According to an NBC Associate Producer of the Forum, as soon as Clinton got off the set, her well-known Hitler temper exploded.
"Hillary proceeded to pick up a full glass of water and throw it at the face of her assistant, and the screaming started."
"She was in a full meltdown and no one on her staff dared speak with her – she went kind of manic and didn't have any control over herself at that point."
"How these people work with this woman is amazing to me. She really didn't seem to care who heard any of it."
"You really had to see this to believe it. She came apart – literally unglued; she is the most foul-mouthed woman I've ever heard … and that voice at screech level … awful!"
"She screamed she'd get that f…..ing Lauer fired for this."
She also called DNC Chair Donna Brazile a 'brain dead buffalo'…Notice how everyone keeps quiet? Democrats are NON-THINKING SUBMISSIVE SLAVES when it comes to the Clintons – from journalist down to every Hillary Clinton voter out there.