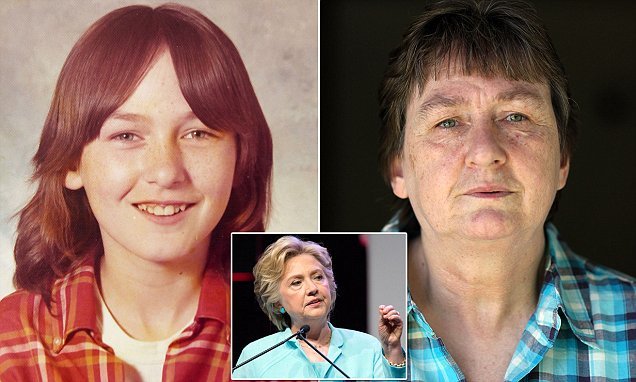 In 1975, a 12-year-old Kathy Shelton from Arkansas was raped by 42-year-old Thomas Alfred Taylor. Hillary Clinton became his lawyer and got him off knowing he was guilty. But Hillary did not stop there. In her defense, she accused the little girl of acting like a prostitute seeking older men and fantasizing about them. WRONG! No 12-year-old girl thinks of sex, how much more being raped by older men!
Shelton was  brutally raped after she was lured by Taylor into his pick up truck pretending to get her a soda but took her into a 'weedy ravine' where she was raped by Taylor and another 15-year-old boy. She was cussed and physically beaten while being raped. She was able to escape her attackers and went to a nearby house and later woke up in a hospital. She was brutally assaulted she was left with severe internal and external injuries, knocked into a coma and later undergo stitches  in her genital area.
 'When I came out of the coma, I had several stitches down there. They tore me up bad,' she said. 'The doctors said there was a 99 percent chance I couldn't have kids. I have been with a couple
HOW DID HILLARY WON THE CASE? This was Hillary's first major case as an attorney.  She used psychiatric examination to label her as 'emotionally unstable.'
  "I have been informed that the complainant is emotionally unstable with a tendency to seek out older men and to engage in fantasizing."
The prosecutor's main forensic evidence – a blood and semen stained underwear –  was accidentally thrown away by the crime lab after testing it.
'The sad thing was,' said Clinton, 'The prosecutor had evidence. A pair of underpants, which was bloody.'
So Hillary went to New York with remnants of the underwear and was told by a renowned forensic expert there's not enough blood left on the clothing for the defense to use for independent testing. With that news, Hillary returned to Arkansas and threatened the prosecutor about the famous forensic expert 'ready to come from New York to prevent this carriage of miscarriage of justice. So we were gonna plea bargain.'
Hillary believed his client was guilty but she wanted to win her first major case so she chose to destroy an innocent 12-year-old girl. Taylor served less than a year instead of 30 years to life in jail.
Tonight, Donald Trump invited Kathy Shelton to join the debate front row seat with three other women who accused Bill Clinton of rape and also threatened by Hillary.