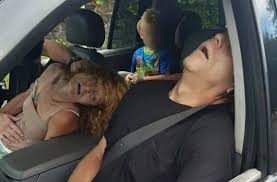 There's a heroin drug epidemic in America today that needs to be  stopped. Heroin is made from the resin of poppy plants. A milky, sap-like opium is first removed from the pod of the poppy flower. This opium is refined to make morphine, then further refined into different forms of heroin. Heroin is sold as a white or brown powder, or as a sticky black substance known as "black tar heroin." Colombia produces brown and chalky.Heroin from Pakistan and Afghanistan is also brown, and it tends to be sold in Europe.  Mexico is the only country that produces "Black tar" heroin. White-powder heroin — which is more refined and pure – arrive from Southeast Asia.
There are two countries responsible for  bringing this drug into our country and the rest of the world.
MEXICO – Drug cartels are replacing marijuana with heroin for US market.
AFGHANISTAN – The war in Afghanistan sadly turned this backward country into world's top producer of heroin.
WHY THE EPIDEMIC? The economic law of supply and demand is turning heroin into a choice for cheap drug. The increase supply worldwide is making heroin affordable for drug addicts. In US the price of about 28 grams of marijuana cost about $400, but one gram of heroin would be worth $225 ( According to U.N. World Drug Report 2014 )
MEXICO'S GROWING POPPY FIELDS REPLACING MARIJUANA
In the last four years the production of heroin in Mexico has surpassed marijuana.The Secretariat of National Defense (SEDENA) indicate that the location of poppy crops phenomenon replaced the marijuana plantations.  the period 2011-2014, the military began to find their land tours and reconnaissance flights over poppy fields, a total of 427, 229 plantations, an increase 56 percent to the previous period.
 Mexico appears to be surpassing Colombia as the main producer of heroin for the US market. Brownfield recently stated that the majority of the heroin sold in the United States comes from Mexico, where US authorities have seen an increase in poppy cultivation and heroin production. – Read more: Mexico Poppy Production Feeds Growing US Heroin Demand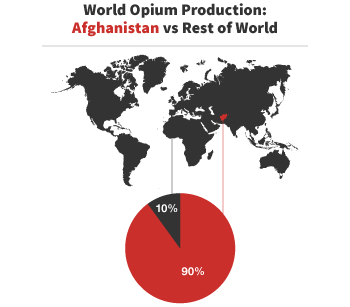 HOW THE WAR IN TERROR TURNED AFGHANISTAN INTO WORLD'S TOP HEROIN PRODUCER
Afghanistan is the world's largest source of opium, producing over 90% of global supply. Opium production accordingly plays a key role in the political economy of Afghanistan. While occupying less than 3% of land under cultivation, opium is Afghanistan's most valuable cash crop, and opiates—opium, morphine, and heroin—are its largest export, with an estimated value of $3 billion at border prices.
In the words of the US State Department:
"Opium is a source of literally billions of dollars to extremist and criminal groups… [C]utting down the opium supply is central to establishing a secure and stable democracy, as well as winning the global war on terrorism," (Statement of Assistant Secretary of State Robert Charles. Congressional Hearing, 1 April 2004)
In the last decade, heroin abuse has skyrocketed. The rate of heroin-related overdose deaths increased 286 percent between 2002 and 2013 . In 2002, 100 people per 100,000 were addicted to heroin but that number had doubled by 2013.