Wikileaks founder Julian Assange is celebrating 10th-year anniversary of Wikileaks by dropping a Hillary Clinton 'October surprise'  which he believes could alter the election result, saying: 'I think it's significant. It depends on how it catches fire in the public and in the media.'
Next to her sleazy-but-charismatic husband Bill Clinton, and perhaps Obama, I believe Julian Assange is second to Hillary's list of most hated men. She even discussed the possible assassination – using drones- while she was Secretary of State in a meeting with her staff in 2010 about how to stop a WikiLeaks document dump dubbed 'CableGate,' TruePundit reports.
I say Democrat lapdogs mainstream media are not going to allow their Madam Hillary Clinton to be ambushed by Julian Assange. I expect them to act their usual typical drive-by media who will surround Hillary and will take all the bullets for her before it can cause any damage. The Hillary zombies, pretending to be media, already made a blood compact with each other when it comes to propping her up, protecting her and destroying her enemies.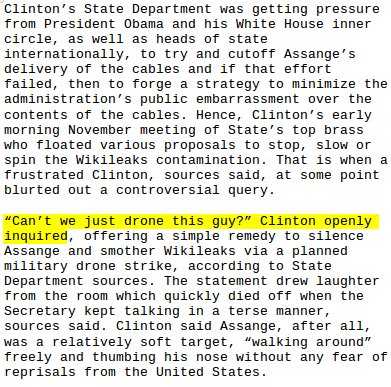 This is the order of events for @wikileaks event at 12 midnight pacific time: