Hillary Clinton and Donald Trump first presidential debate is expected to draw more than 100 million viewers – very historic indeed. An interesting combination of outspoken Trump with no-holds-barred attitude when it comes to answering questions and sick Hillary having medical episodes during almost every public appearance, the two duking it out for the first time is like a must-watch  reality show except that it's happening inside the ring of America's political arena.
What are viewers fantasy regarding this Hillary versus Trump showdown? Although people wonder if the old Trump with uncontrollable mouth will show up it's really Hillary Clinton that everybody is interested. They want to see if Hillary will last the 90-minute debate and they want to see if she will cough, ask for a stool, run out of stage for catheter or bathroom break, will have a seizure episode or most of all another 9/11 collapse.
If these things would happen, here are five suggestions rump should do in response to Hillary Clinton's debate health crisis:
1.IF HILLARY HAS A COUGHING FIT .
Trump should have a dozen bottles of water with him at the debate and when Hillary coughs, he should offer Hillary a water and if she refuses, then it's not his fault for not helping a sick lady in coughing distress.

2. IF HILLARY NEEDS A BATHROOM OR CATHETER BREAK
Trump should excuse Hillary and let her go to the bathroom and let her do what she needs to do. In the meantime, this is an opportunity for Trump to  remind America the country is in the toilet thanks to Obama. Trump may be able to have a 15-minute free campaign speech  while Hillary is doing something in the bathroom nobody really wants to think about- yes, we don't want to think about it, okay!
3. IF HILLARY GETS TIRED AND NEED TO SIT DOWN
If Trump starts to see Hillary looking weak and tired, he should tell the moderator to bring Hillary ASAP a chair with a pillow to sit and rest. Trump should even say it's completely fine with him if Hillary will continue the debate resting on the chair.
4. IF HILLARY WILL HAVE ANOTHER SEIZURE
If Hillary starts to move her head like she's about to have a seizure, Trump must be the first one to call Hillary's entire medical staff at the back and let them do what they need to do – bring in a gurney, oxygen, whatever.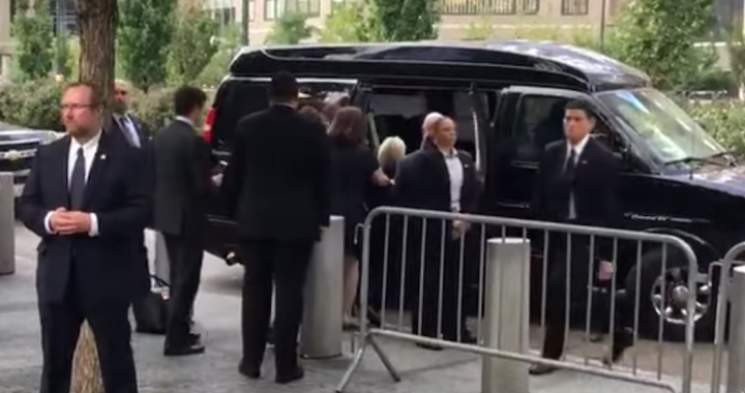 5. IF HILLARY WILL HAVE ANOTHER 9/11 COLLAPSE
If Hillary collapses like what happened in 9/11, Trump should immediately pick her up and scream for her medic to come immediately. Trump should declare the debate is over. Hillary is too sick to make it to the White House and he is the only one fit to be president.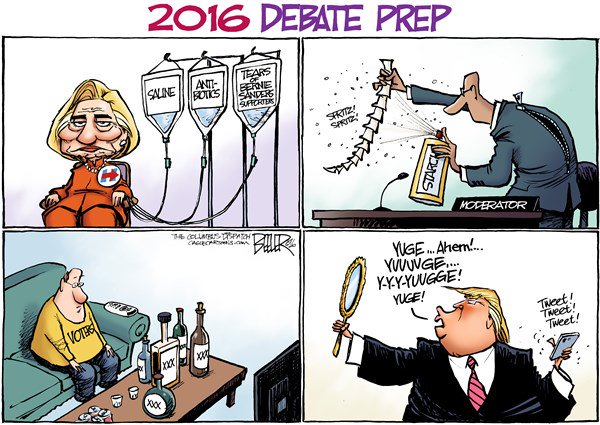 Donald Trump has to keep his calm, look presidential and demonstrate to Americans that he is a trusted  caring person that at a time of bad health and crisis, he is the ultimate first responder that America needs.