So true! Hackers bring breaking news then journalists scramble and trip over themselves in order to cover them up. Earlier, Guccifer 2.0 dropped the latest DNC leaks in joint effort with Wikileaks' twitter account.
So far, two things are getting noticed. The leak on DNC donors pay for play corruption scheme and the DNC automated system which blogger Matt Forney claims give DNC a chance to commit massive vote fraud just like what happened when 'Bernie Sanders voters got purged from voter rolls.'
Here's the DNC leak on their pay-for-play scheme, how Democrat big donors were rewarded federal positions.
This was posted at Reddit:
The leaks are being explored over at 4chan. They found that top donors were awarded significant federal positions, which going by other Pay to Play comments is completely expected.
88719024
Here's my updated list, starting with #1 (top donor) working their way down.
Starting to see the pattern?
1 Matthew Berzun … Ambassador to UK
2 Julius Genachowski … Former chairman to FCC
3 Frank Sanchez…. Under secretary of commerce
8 Kirk Wagner… Ambassador to Singapore
9 Alan Solomont … Ambassador to Spain
11 John Roos… Ambassador to Japan
12 Nicole Avant… Ambassador to Bahamas
13 Eileen Chamberlain Donahoe … Ambassador to the UN
16 Steve Westly – CFO of California
17 Don Beyer – Ambassador to Switzerland
21 Don Gips – Ambassador to South Africa
22 Howard Gutman – Ambassador to Belgium
24 Cynthia Stroum – Ambassador to Luxembourg
27 Mark Gilbert – Ambassador to New Zealand
31 Norm Eisen – Ambassador to Czech Republic
37 Bruce Oreck – Ambassador to Finland
43 Tony West – deputy Attorney General
45 Bill Kennard – Ambassador to EU
Here's a more complete list.
Via Reddit: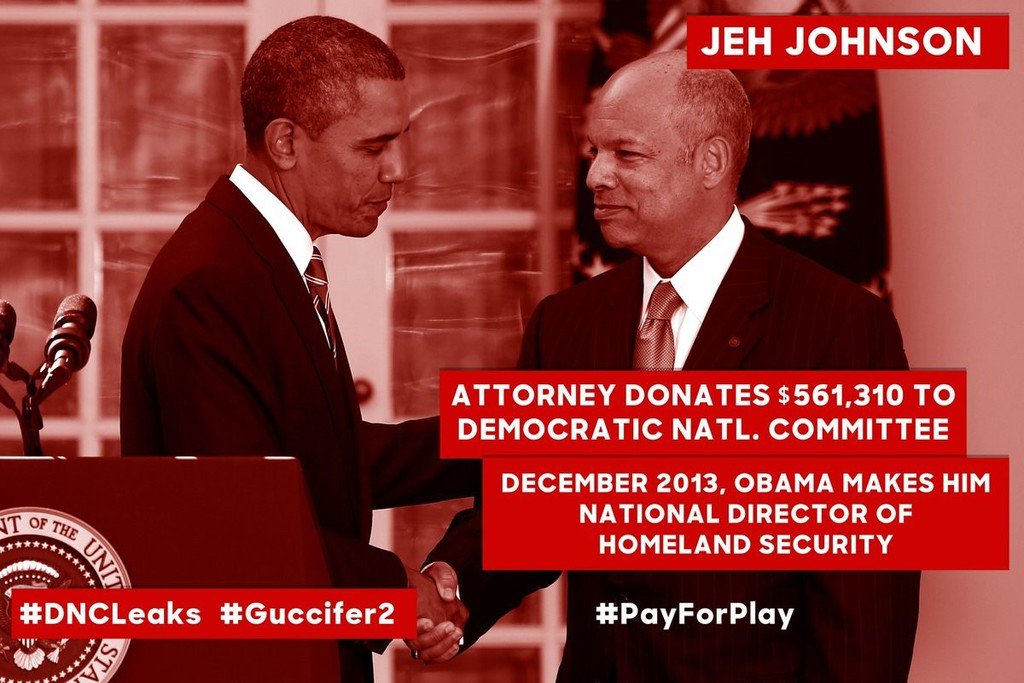 This guy got the FCC spot for his $3.5 million pay-for-play donation and his ex-wife Martha Raddatz is one of the presidential debates moderator.
DNC LEAK: Democrat Party admits to creating ISIS. Trump is correct again!
DNC LEAK: DNC STAGED PROTEST AT TRUMP RALLES.