This is crazy! HILLARY CLINTON HAS A BODY DOUBLE? For real? I get the 9/11 fainting or collapse of Hillary Clinton because obviously she is a very sick woman – unless you are a non-thinking Democrat or puppet media who stick to the memo and gag order that Hillary is fine and just suffering from weird allergies or whatever.
Below are pictures posted on twitter and I will let you people of America decide. If this is a case,  you are the jury and you give the verdict on this new case – the case of Hillary Clinton Body Double, is it fact or fiction.
According to Hillary's Body Double watchdog ( the alt-right @ Twitter and Facebook ), the Hillary who emerged from Chelsea's apartment may sound like her but surely cannot be her because of the following:
The Hillary Body Double weigh less than Hillary – it's impossible to lose that much weight in just a couple of hours. I noticed the hips and thighs are different.
 The Hillary Body Double looks ten years younger than the one who collapsed earlier at 9/11 ceremony.
The finger and nose controversy – they just don't match they said.
 Hillary hardly carry her own purse – yep, the Democrat Madam sure don't! And the picture that surfaced shows the new Hillary carrying her purse different shoulder. NOTE! Women don't switch shoulders when it comes to their purse. I was forced to switch to the right only after I injured my left shoulder and the habit stayed.
 Her famous handler, medic team and Secret Service entourage missing when she reemerged. If she was rushed to a hospital because she was in critical condition, that's where they would be – not at Chelsea Clinton's apartment.
THIS VIDEO SHOWS HOW BAD HER FALL WAS: LOOKS LIKE A SEIZURE, HER LEGS WERE STIFF, SHE COULDN'T TAKE A STEP FORWARD, THEY HAVE TO LIFT HER AS HER FEET DRAGGED ON THE GROUND.
WHAT ELSE DOESN'T MAKE SENSE?
They claimed Hillary was NOT taken to a hospital after she collapsed yesterday where she was thrown into the back seat like a 'side of beef', a senior law enforcement told the

 

Daily Beast

. 



Why would you take a sick person who just collapsed to her daughter's apartment when you should be taking her STRAIGHT to the hospital?
Why would you ALLOW someone sick and who just collapsed to REEMERGE in public on a street 'FULLY RECOVERED' two hours after her medical episode when she should be in a complete bed rest. If she has 'pneumonia' as her doctor said, why did they let her talk to a little girl who could get infected with her virus.
Why did they allow her to leave WITHOUT her famous handler, her usual medic team and Secret Service?
If Hillary FULLY recovered two hours after she collapsed, why announce later she is recovering in her NY house and has to cancel her California fundraising?
If Hillary Clinton's medical issue is just another case of pneumonia, there is NO NEED for the Democrat Party Committee to have a meeting and consider a replacement for her in the event her health forces her out of the race. They would only consider replacing Hillary if they know she has a very serious health condition.
THIS IS THE VIDEO OF A 'FULLY RECOVERED' HILLARY TWO HOURS LATER. WHERE'S HER FAMOUS HANDLER, MEDIC TEAM AND SECRET SERVICE?
STAGED? Secret Service agents won't allow ANYBODY – even if it's a crawling one day old baby – to get near Hillary unless they were first inspected and passed the inspection. It means this little girl walking up to Hillary to greet her is no random act of cuteness, especially after her famous 9/11 collapse this morning and you don't see her agents and her mysterious handler around her, the picture looks suspicious.
HARDLY LOOKS LIKE HILLARY! EVEN BILL CLINTON WILL SAY NO TO THIS PCTURE!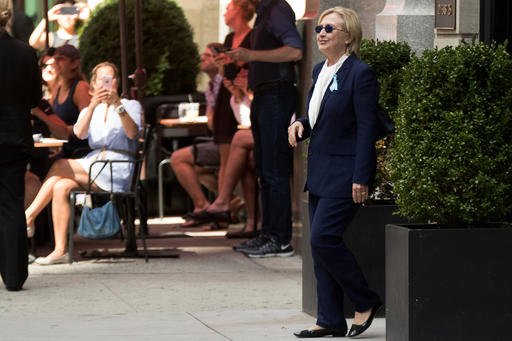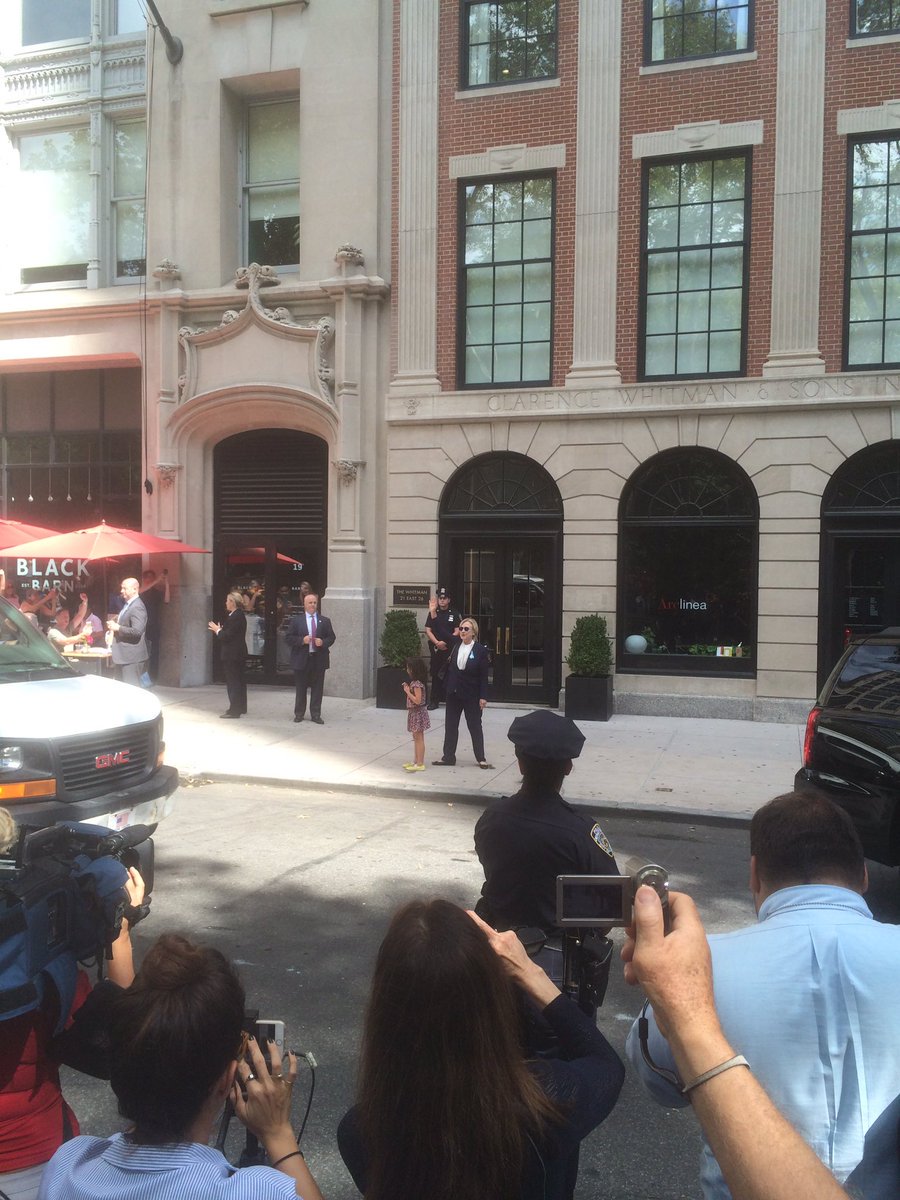 STAGED?
NOTICE THE SHOULDER? AND THE WALK? TOTALLY DIFFERENT! HMMMM!
IS THIS HILLARY CLINTON'S PERSONAL PHYSICIAN, DR. LISA BARDACK? IS THIS HILLARY'S MEDIC TEAM?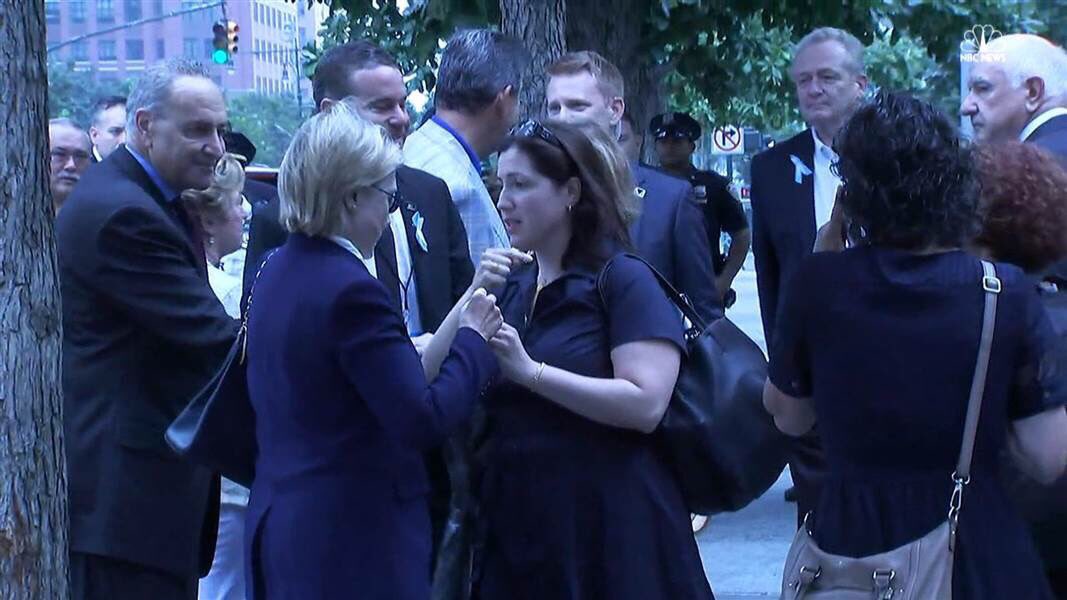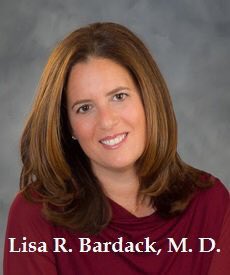 ANOTHER ANGLE: FRONT VIEW AND SIDE VIEW!
TALKING OF BODY DOUBLE SUSPECT, IS IT TERESA BARNWELL?
There is only one famous impersonator of Hillary Clinton and that's Teresa Barnwell. Is she the body double? Who knows? With the Clintons, mysteries and scandals are nothing but normal.  Teresa actually joined Lip Sync Battle Live today as Hillary impersonator. BUT, she posted a twitter today where she said she's in new York and the creepy part the picture on her tweet is similar to Chelsea's apartment building where Hillary reemerged 'fine and dandy'. Then later she posted on her twitter that she's just messing up with everybody. The thing is, after Hillary collapsed the expected thing to do is to take her to hospital, NOT to Chelsea's apartment. Notice the Hillary who reemerged did not have the mysterious handler and the usual Secret Service entourage? What a day!
THEN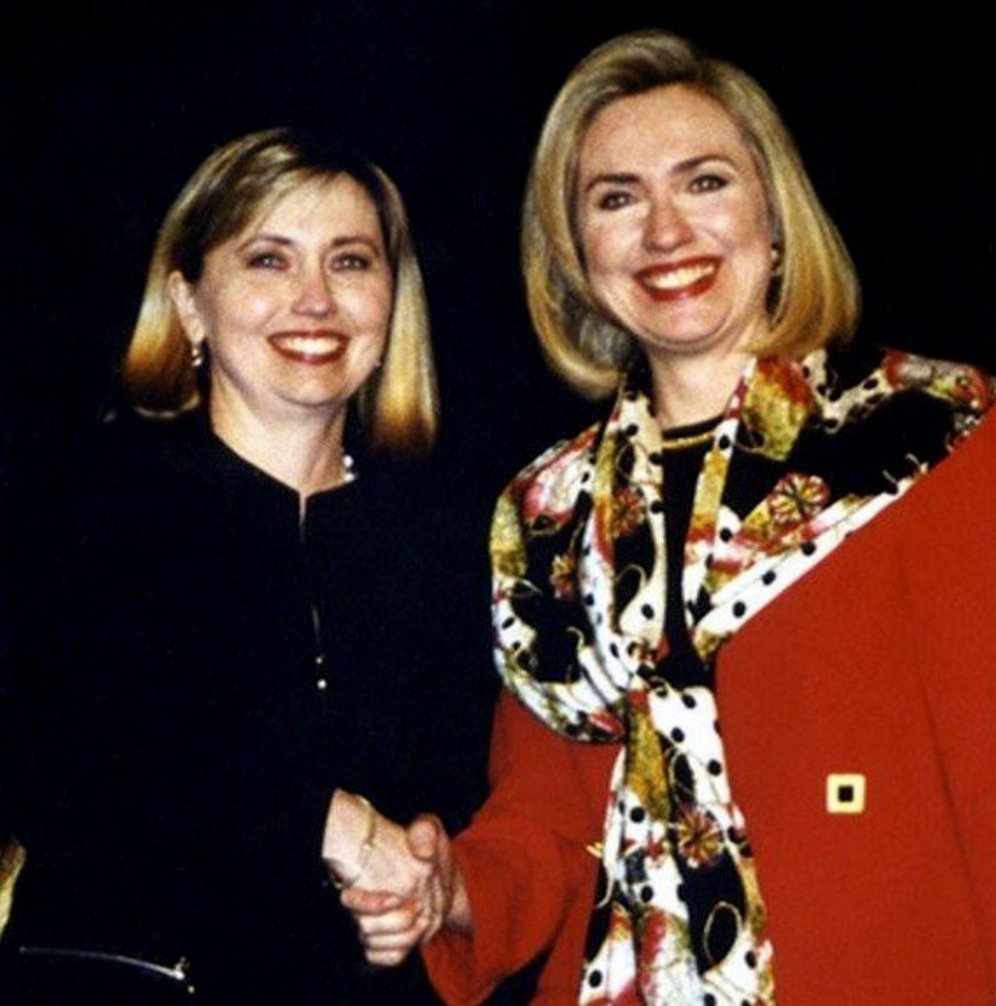 NOW!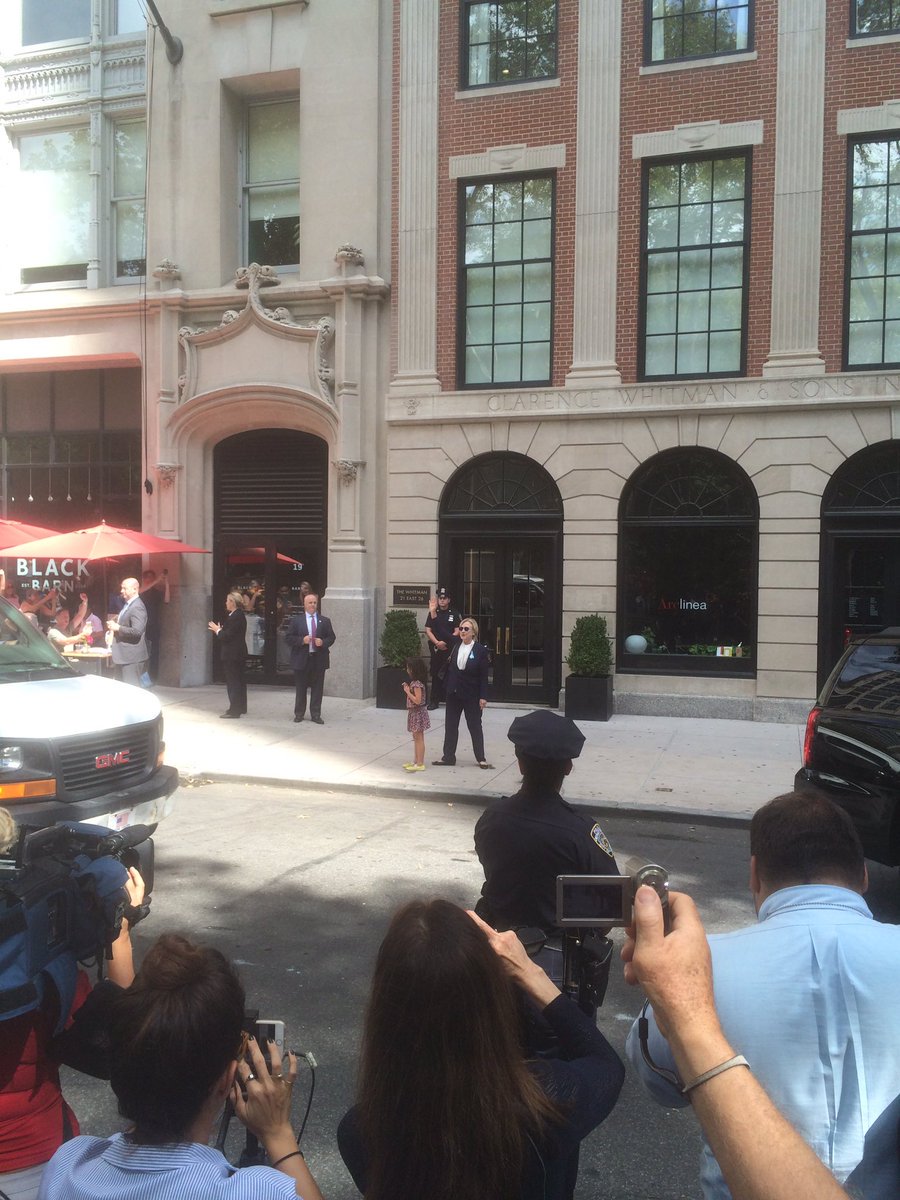 TERESA BARNWELL? ARE YOU FACT OR FICTION IN THIS BODY DOUBLE CONTROVERSY?
TERESA BARNWELL RECENTLY HIRED TO IMPERSONATE HILLARY CLINTON FOR A SUMMER CAMP EVENT IN NEW YORK LAST AUGUST.
HILLARY CLINTON'S HEALTH IS BECOMING THE WORLD'S MOST WATCHED REALITY TV SHOW! THIS IS NO CONSPIRACY! UNSCRIPTED AND FULL OF SURPRISES! STAY TUNED!